Bird Flu Leaves Record U.S. Egg Prices Alongside Dead Hens
Published on May 17 2015 12:11 PM in Supply Chain tagged: Egg / bird flu / Prices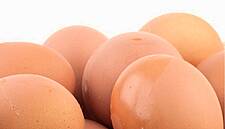 Joe Greco, who's been churning out cookies and cakes for 27 years, usually uses about 600 pounds of liquid eggs a week at his bakery near Chicago. Now, his freezer has seven times that amount because Greco worries that record prices are about to go even higher.
The cost of breaker eggs - those cracked and sold in liquid form for use by wholesale bakers and restaurants such as McDonald's Corp. - have more than doubled in the past three weeks. The culprit behind the surge: the worst-ever American outbreak of the bird flu virus.
More than 33.5 million chickens, turkeys and other birds have been affected. Iowa, the top U.S. egg producer, was hardest hit, losing 40 per cent of its laying hens. The disease prompted the government to forecast the first annual drop in egg production since 2008. Greco is concerned his 4,200-pound (1,900-kg) stash of liquid eggs won't protect him from higher costs, and that he'll have to start buying eggs still in shells to crack by hand.
"As soon as I heard about the bird flu, I knew this was going to happen," said Greco, 47, who owns Palermo Bakery in Norridge, Illinois, near Chicago's O'Hare Airport. He's been racing to buy extra supplies over the past month and saw prices for the pails of liquid eggs he buys jump 28 per cent last week. "After the Fourth of July, there might be another nightmare, so I'm still shopping around to see if there are better prices."
Highly pathogenic avian influenza spread rapidly through parts of the Midwest in the past two months, and Iowa lost about 23 million hens. Post Holdings Inc. has warned that bird flu will hurt fiscal 2015 earnings at its food-service unit, while countries in the Middle East and Asia have placed restrictions on shipments of U.S. poultry.
Falling Output
The U.S. Department of Agriculture on Tuesday said that domestic egg production will drop this year, reversing an April forecast for an increase. Bird flu will also limit turkey supplies, though they're still expected to climb from 2014. Total annual poultry and egg output is valued at about $48 billion.
Prices for wholesale breaker-eggs reached $1.23 a dozen on Wednesday, the highest ever, according to commodity researcher Urner Barry. The highly concentrated industry in Iowa increases the chances of greater supply impact, said David Swenson, a regional economist at Iowa State University in Ames. About 1 per cent of the state's farms account for 97 per cent of egg capacity, he estimated.
A third of all eggs in the U.S. are broken for the liquid products, and about 23 per cent of that supply has been destroyed by bird flu, according to Urner Barry, which has been tracking the industry since 1858. The liquid eggs are a staple in industrial food production for everything from imitation crab meat to ice cream.
'Industrial Users'
"It's more complicated than just the grocery store and the dairy counter," Iowa State's Swenson said in a telephone interview. Higher costs will "find their way more widely downstream into large industrial users," he said.
Governors in Minnesota, Nebraska, Wisconsin and Iowa have made resources available to stem the spread of the disease after declaring states of emergency, and the USDA has authorized $330 million for bird-flu assistance to farmers. Warmer weather is also expected to slow the outbreak.
McDonald's, which uses liquid eggs for its sausage burrito and scrambled eggs, has contingency plans and doesn't anticipate an impact on its ability to supply restaurants or serve customers, spokeswoman Lisa McComb said in a May 13 e-mail.
Center Fresh
Farms housing about 5.5 million hens owned by Sioux Center, Iowa-based Center Fresh Group reported cases of the disease last month, prompting the company to increase measures to prevent more infections. They're now washing the tires and undercarriages of all vehicles that come onto their farms.
"Our entire industry is engaged at this point in this problem and how to get through it," J.T. Dean, Center Fresh's chief operating officer, said in a telephone interview. "We're going to continue to maintain every biosecurity step that we can on our unaffected facilities, and I suspect we'll maintain that posture indefinitely."
Clean-Up Time
More infected flocks will spur even higher costs, with egg prices expected to climb about 1.6 per cent for every 1 million lost hens, said Dermot Hayes, an agricultural economist at Iowa State University. The gains can also stick around longer than the disease because of lengthy clean-up procedures and the time it takes for a chick to grow into a laying hen, according to Tom Elam, the president of agricultural-consulting firm FarmEcon in Carmel, Indiana.
With food makers rushing for supplies, more are turning to shell eggs sold in cartons when they're unable to find the liquid product. The shelled substitutes fetched $1.55 a dozen on Wednesday, higher than the five-year average for the month of May at $1.08. Chicago baker Greco estimates his costs for liquid eggs could go up another 25 per cent by the summer.
"We're starting to see some shortages, because for some of the companies that have lost a large number of these birds, there's no fall-back," Rick Brown, a senior vice president at Bayville, New Jersey-based Urner Barry, said in a telephone interview. "You can't just go and say, 'Oh, I need 2 million eggs today, where can I get them?' We're just not able to replace them that easily."
© 2015 European Supermarket Magazine – your source for the latest retail news.