Brexit Deal Coming In 2018 May Be Too Late For UK Companies
Published on Nov 15 2017 3:40 PM in Supply Chain tagged: Trending Posts / UK / Ireland / EU / Brexit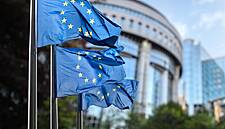 The emerging view from European capitals on Brexit timing suggests that companies will have no choice but to activate their contingency plans, making the potential economic hit in the UK a fait accompli whether there's a deal or not.
European Union officials bracing for failure at a December summit now see leaders' gatherings in the first few months of next year as the last best chance for a breakthrough, said three people familiar with the negotiations.
While this would keep the talks alive, companies such as London Stock Exchange Group Plc and Deutsche Bank AG have said that they need to start making plans early next year in preparation for Britain's exit from the bloc in March 2019.
'Crisis Point'
"This is a crisis point," Nina Schick, associate director at Hanbury Strategy, a political-research shop, told Bloomberg TV. "Businesses are saying if we don't have clarity by December, this is when we're going to act on our contingency plans to potentially move out of the UK."
Business leaders in the UK have warned for months about the need for certainty, with many companies viewing January as the cut-off date for arranging a transition period to smooth Britain's departure from the bloc. If it comes too late, it will be of little use to companies that are already preparing/drafting plans for relocations and shifting jobs from London.
London could lose 10,000 banking jobs and 20,000 more in financial services on Brexit, as clients move €1.8 trillion ($2.1 trillion) of assets out of the UK, according to the Bruegel think tank.
Plans Afoot
Barclays Plc has already detailed plans to move some people out of London, and Deutsche Bank expects to move about 4,000 positions to Frankfurt and Berlin, people briefed on the matter said in August. UBS Group AG will start the process of moving its London-based employees early next year.
The view in Brussels is that the onus is on the UK to make concessions before the EU agrees to move talks on to the transition and longer-term future trading relationship. If it hasn't done that by December, the EU will wait, rather than force the issue, or move to a Plan B, the people said. A summit in January or February could provide a second chance, they said.
The deadlock stems from the EU's demand that Britain commit to meeting financial liabilities of about €60 billion ($71 billion) and spell out how it proposes to avoid a hard border between Ireland and Northern Ireland.
The UK's Conservative government, which lacks a majority in Parliament, says that it has made concessions already, outlined in Prime Minister Theresa May's speech in Florence, Italy, in September, and it's now up to the EU to show some flexibility.
Not Enough
"While the UK believes they have gone as far as domestically possible in the Florence speech, the EU27, led by Berlin, believes a further, more substantial, concrete and unconditional step is need," said Fabian Zuleeg, chief executive officer of Europe Policy Centre, a Brussels-based think tank.. "There is a significant chance we will not reach agreement on sufficient progress by December."
The run-up to the EU's summit on 14 and 15 December is beginning to look like a repeat of the weeks building up to the last leaders' gathering, in October. Then, as now, the chance of a deal began to fade, as the EU side demanded concrete commitments from the UK and Britain refused to budge.
Brexit Secretary David Davis thinks that it's as close as 50-50 as to whether there's a breakthrough at the December summit, he told European business leaders at a meeting in London this week, according to three people present. A spokesman for Davis denied that he said this.
"The UK government should make a move," the business leaders told May and Davis, Emma Marcegaglia, head of the Business Europe lobby group, said in an interview.
News by Bloomberg, edited by ESM. Click subscribe to sign up to ESM: The European Supermarket Magazine.