Chilly Weather Risks Delaying Black Sea Wheat, Barley Harvest
Published on May 24 2017 8:44 AM in Supply Chain tagged: Wheat / Russia / Ukraine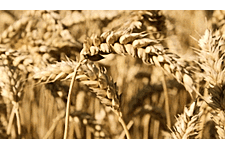 Unusually cold weather in Russia is delaying wheat and barley ripening, meaning buyers may have to wait longer for the cheaper new crop to arrive.
Temperatures from May 11 to 20 were 3 degrees to 5 degrees Celsius (5.4 degrees to 9 degrees Fahrenheit) below the 30-year average in parts of central and southern Russia, U.S. Department of Agriculture data show. Those regions grow mostly winter wheat and barley.
"No doubt we are seeing a delay in our area," Alexander Nezhenets, director general of Agrofirma Progress, which operates farms in southern Russia, said by phone. "Wheat ripening came amid the period of low temperatures, so the harvesting delay will be about 10 to 12 days."
He probably won't start reaping wheat until at least July 15, Nezhenets said. While barley harvesting usually starts by June 28, it could be 5 or 6 days later this year.
In other parts of Russia's western wheat belt, the delay will depend on conditions in the weeks remaining before harvest, according to Vladimir Petrichenko, director general of consultant ProZerno in Moscow.
Wheat Prices
Russian wheat-export prices climbed 1.1 percent last week to $185 a metric ton. New-crop wheat was offered at $174.
A harvesting delay may make it harder, but not impossible, for traders to find Black Sea barley for shipment to Saudi Arabia in early July, according to Petrichenko.
Saudi's state-grains buyers purchased seven cargoes of barley for delivery from July 1 to 15 in a tender earlier this month. However, the sellers have the option to choose the barley origin, which includes the Black Sea region, Australia and the European Union.
Ukraine's weather has also been chillier than usual in the middle of May, USDA data show. Winter wheat and barley now lag about a week in development, compared to the last several years, according to Liza Malyshko, an analyst at UkrAgroConsult in Kiev. That means wheat harvesting may start around July 1 and barley by June 25, unless ripening accelerates in next few weeks, she said.
"Barley is fast to collect," Malyshko said. "If logistics work well, it's possible to get it loaded in time" to fulfill the Saudi purchase.
News by Bloomberg, edited by ESM. Click subscribe to sign up to ESM: The European Supermarket Magazine.