Trouble For Mustard Fans As Drought Cuts Seeds Used In Dijon
Published on Oct 13 2017 9:00 AM in Supply Chain tagged: Canada / Mustard / Dijon Mustard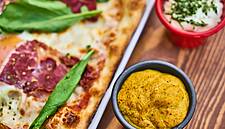 Foodies beware: the tiny brown seeds used to make high-end Dijon mustard are in short supply and getting more expensive.
Canada, the world's biggest grower, has been ravaged by drought in its southern Prairie provinces, cutting the harvest of all mustard-crop varieties by half to the smallest in 11 years. Among the hardest hit are brown mustard seeds, boosting the ingredient cost of the spicy condiment favoured by chefs as well as shoppers of brands like Grey Poupon or Maille Dijon Originale.
While Americans eat a lot more yellow mustard on ball-park hot dogs or mixed into salad dressings, European countries are big consumers of the brown variety. Tighter supplies of seeds from Canada - also the world's biggest mustard-seed exporter - could hurt food makers in the US, the top buyer, as well as major importers including Belgium, France, Japan and Senegal.
"There is no substitute for brown mustard in making Dijon," said Walter Dyck, manager of the mustard seed division at Pleasant Prairie, Wisconsin-based Olds Products Co., which has been making mustard for more than a century and is the second-largest manufacturer in North America. "The price - it can move higher quite quickly when supplies are tight," Dyck said by telephone from Lethbridge, Alberta. "Everybody that needs it has to have it."
Some southern parts of Saskatchewan and Alberta got less than 60% of normal rainfall since the start of the growing season, according to the nation's agriculture ministry. Farmers - including those in neighbouring North Dakota in the US - endured a "very dry and very hot" growing season that led to a significant decline in crop yields after the harvest began in August, Olds Products said in a September 20 report.
Shrinking Crop
Production of all varieties of Canadian mustard seed tumbled to 114,900 metric tonnes this season from 235,600 tons in 2016, according to estimates by Statistics Canada, a government agency. The weather also reduced output of bigger crops including wheat and barley.
"Mustard is in shorter supply," said Kevin Hursh, who planted 300 acres on his farm in Cabri, Saskatchewan. The farm got less than 3 inches of rain since April 1, and yields shrank by more than 10% from a year earlier, said Hursh, who is executive director of the Saskatoon-based Saskatchewan Mustard Development Commission.
Already, the price of brown-mustard seed has risen by a third to 39 Canadian cents a pound, up from 29 cents a year earlier and the highest since 2015, according to data collected by Stat Communications Ltd.
Prices could still go higher. Planting of all mustard varieties fell about 28% to 380,000 acres (154,000 hectares) this year from 2016, Statistics Canada data show. The bulk of the crop is the more common yellow mustard, while the rest are mostly brown and oriental seeds.
Canada exported about C$124 million ($100 million) of all mustard seeds last year, according to the government. Most of the shipments to the US are yellow mustard while European buyers import mostly the brown seeds. Between August 2016 and July 2017, Canada shipped 6,900 tonnes of mustard to Belgium, up 15% from a year earlier, Canadian Grain Commission data show.
Exports are already outpacing last year. Canada shipped 2,900 tonnes of seed between August and October 1, up 16% from a year earlier, according to the latest available government data.
European food makers probably will "be looking for some additional supplies" outside of Canada if they expect seed inventories will get tighter, said Dyck, the Olds Products seed manager.
News by Bloomberg, edited by ESM. Click subscribe to sign up to ESM: The European Supermarket Magazine.