DowDuPont Bets On Canola In Race To Boost Plant Proteins
Published on May 18 2018 4:15 PM in Supply Chain tagged: Canada / Canola / Rapeseed / Livestock Feed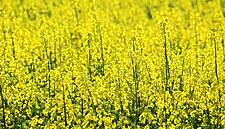 Production of Canada's biggest crop, canola (also known as rapeseed), has expanded rapidly in recent years amid strong demand for the vegetable oil it produces.
But the other processed canola product, meal, takes a backseat to US soymeal to feed certain livestock, due to a reduced protein level.
Seed developer DowDuPont Inc. hopes to change that as early as next year.
Higher Protein Content
DowDuPont is in late development stages of a canola variety with higher protein content rivaling that of soybeans, which dominate the pig feed market. DowDuPont aims to start selling ProPound canola as early as 2019, said Dave Dzisiak, North America commercial leader for grains and oilseeds at the company.
"The food industry really wants more options," Dzisiak said in an interview. "Canola could create a whole new opportunity."
DowDuPont's move comes as other agriculture majors, such as Cargill Inc. and Archer Daniels Midland Co. are turning to peas as a fast-expanding protein source.
ProPound canola meal will primarily target pig and poultry farms in Canada, the United States and China, as well as fish farms.
Soybeans currently have the edge on canola because soymeal, separated from the beans, contains more protein than canola meal. But DowDuPont's ProPound would narrow that gap, producing canola meal with 44% protein, and less fibre, from canola's typical level of 37%. Soymeal has 47% protein.
Valuable Oil
Developing high-protein canola has long been possible for plant breeders, but only at the expense of canola's yield, or the amount of valuable oil in each seed. The breakthrough represented in ProPound has been ratcheting up protein levels without diminishing the same plant's yield or oil content, Dzisiak said.
While most of Canada's canola is grown from genetically modified seeds, the high-protein trait was achieved through years of incremental, traditional plant-breeding.
In a Saskatoon, Saskatchewan laboratory, DowDuPont's work included marking canola genes from different strains to identify for breeders which plants contain desirable traits, and where in the genome they are located. With that information, breeders then select varieties of canola and cross them hundreds of times to come up with something new.
Canola meal typically sells for about 30% less than soymeal, reflecting its lesser protein content, but achieving a comparable protein level may shrink that discount to 10%, allowing canola meal exporters to reap greater profits while undercutting soymeal, Dzisiak said.
News by Reuters, edited by ESM. Click subscribe to sign up to ESM: European Supermarket Magazine.