EU Wheat Drifts Lower As Slow Exports Weigh
Published on Nov 30 2018 9:59 AM in Supply Chain tagged: Trending Posts / US / Wheat / EU / paris / Euronext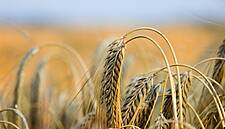 Paris wheat futures fell on Thursday to their lowest in over a week, hit by weaker US prices and lagging western European exports.
Benchmark March milling wheat on the Paris-based Euronext exchange settled €1.25, or 0.6%, lower at €201.00 ($228.58) a tonne. It earlier touched its lowest since 20 November at €200.75.
Markets Hesitant
US futures fell in the face of chart resistance as grain markets were hesitant before talks between the United States and China at a G20 summit, which are being watched for signs of any thawing in a trade dispute between the world's two largest economies.
Weekly EU data showed soft wheat exports from the bloc in 2018/19 are running 29% below the year-ago level at 6.2 million tonnes.
Competitive prices for Argentine and US wheat, as well as more sustained shipments than expected from top exporter Russia, have tempered hopes of an upswing in EU exports.
"The expected slow-down in the pace of Russian exports is more a when, and not an if. How that then affects EU competitiveness is still to be determined," British merchant Gleadell said in a note.
Strong Competition
Traders said French wheat faced strong competition from Argentine wheat, as well as possibly US and Uruguayan origins, to supply an optional-origin purchase of around 600,000 tonnes made on Tuesday by Algeria, France's main export market.
The return of rain this month in France and other parts of western Europe after severe drought in summer and early autumn has also curbed prices, although there were still background concerns about dryness affecting young crops in some regions.
In Germany, cash premiums in Hamburg were little changed as the weak export context hung over the market.
Standard bread wheat with 12% protein for December delivery in Hamburg was offered for sale unchanged at €3.5 over Paris December.
"I have seen only two export shipments from Germany to Saudi Arabia this month, both of 60,000 tonnes, and that is not enough to support the market," one German trader said.
Meeting Demands
"More imports of feed grains are arriving which should help to meet demand in feed markets," the trader said, noting the expected arrival of 30,000 tonnes of Bulgarian feed wheat next week followed by 60,000 tonnes of maize from Ukraine in early December.
Low waters on German rivers and canals, including the Rhine and Danube, continued to cause transport problems.
"There is some more rain at last forecast in coming days which hopefully will provide some relief," the trader said.