Europe Is Falling Behind Russia In The Global Wheat Market
Published on Nov 15 2017 11:58 AM in Supply Chain tagged: Trending Posts / Wheat / Russia / EU / grain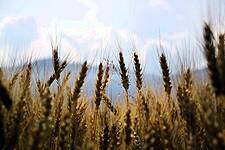 European wheat exports are buckling under the weight of Russia's record harvest.
The world's top shipper is proving a fierce competitor as this year's bumper crop drives even more exports. As it makes inroads into the European Union's traditional markets, Russia's selling point is simple: good quality wheat at prices that many rivals just can't beat.
The numbers speak for themselves, with Russian wheat exports up by a fifth so far this season, while the EU's shipments have dropped 25 percent.
Watch And Learn
"Everyone is watching Russia right now," said Miroslaw Marciniak, a director at InfoGrain, a Warsaw-based adviser. "In the past few years, Russia has been more and more aggressively fighting for new markets. The EU right now has one big problem -- what to do with its grains surplus."
In a world overflowing with grains, low-cost emerging markets from Russia to Latin America are challenging well-established suppliers such as the U.S. and the EU. Russia, once home to a failing Soviet farm industry dependent on imports, has in recent years emerged as a wheat superpower. That's helped depress global wheat prices, with benchmark futures in Chicago down 11 percent in the past two years.
Russia surpassed the EU as the No. 2 exporter last season and is forecast to take the top spot in 2017-18. Its booming agricultural output has helped expand its presence in markets around the world from Asia to Africa.
Export Gains
Russia's export gains are bad news for the EU, and especially its top producer, France, which is trying to regain its market position following an abysmal harvest last year.
Russia took advantage of France's stumble to gain a foothold in some of its most faithful customers. Nations including Cameroon, Ivory Coast, Mauritania and Senegal all expanded purchases of Russian wheat last season and are coming back for more this year, according to consultant Strategie Grains.
"Last year opened the door to Russia wheat and now we don't know when this door will close," said Gabriel Omnes, an analyst at Strategie Grains in Moret-sur-Loing, France. "It's a big concern for French wheat."
Russia is also dominating imports by top wheat buyer Egypt, accounting for three-quarters of the country's purchases so far this season. The EU, represented by Romania and France, sold a combined 18 percent.
Higher Costs
Higher cultivation costs and a strong euro mean that EU sellers are struggling to compete. Many farmers and collectors from Germany and Poland are preferring to hold onto their grains until they see higher prices. In Germany, the EU's second-biggest grower of wheat, farmers will probably continue to defer wheat sales until next year, said Thorsten Tiedemann, chief operating officer at Getreide AG, a Hamburg-based trader.
There's still a possibility that severe winter weather in the Black Sea may put the brakes on the shipments, opening the door for European grain, according to Ben Bodart, a director at adviser CRM AgriCommodities in Newmarket, England.
However, the prospect of a diminishing export pie for Europe may force some soul searching among EU policy-makers about what to do with Europe's surplus grain, InfoGrain's Marciniak said.
"It's for the European farmers to find alternative crops or alternative markets where they can add value to the crop," said CRM's Bodart. "At the moment we've got this glut of grain and everywhere you look you've got some pretty high stocks."
News by Bloomberg, edited by ESM. Click subscribe to sign up to ESM: The European Supermarket Magazine.