Fear Not, U.S. Pasta Lovers: Your Meal Is Safe From Wheat Price Surge
Published on Jul 6 2017 2:08 PM in Supply Chain tagged: Wheat / USA / Pasta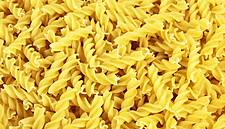 The unsold wheat sitting inside Buzz Mattelin's grain silos in Montana should offer some comfort to American noodle lovers.
Benchmark wheat futures in Chicago have jumped more than 37 percent this year -- off to their fastest start since 1979 -- after a plunge in North American planting was followed by drought that's showing signs of damaging the harvest. That's raised concern that it will cost more to make all sorts of flour-based foods like bread and pizza and cakes.
But U.S. stockpiles of the high-protein durum wheat used in pasta noodles including spaghetti and macaroni are the biggest in 11 years, left over from a harvest last season that was the largest since 2009. And Canadian inventories are up 51 percent. Mattelin, who farms about 900 acres of durum near Culbertson, Montana, says he's still got 25 percent of the grain he collected last year, while his 2017 crop wilts from lack of moisture.
"National yields will be lower in the U.S., but we are starting with a strong supply left from last year's big crops," said Jeff Van Pevanage, the president and chief executive officer at Portland-based Columbia Grain International, a unit of Japanese trader Marubeni Corp. "The U.S. has a comfortable supply, and Canada can export more. A lot of mills already bought ahead for the third and fourth quarters."
Impact
Even with higher prices, consumers probably won't see much impact. Wheat accounts for only a small part of the cost to make most products -- often just a few cents for a loaf of bread. In previous years, when durum wheat surged, retail pasta prices barely budged.
The Montana durum price rose 33 percent in June, the most for that month since before 1999, as drought intensified from the northern Great Plains to the southern Canadian Prairies, where most of the North American wheat crops are grown. Before 2017, wheat had tumbled for four straight years, so U.S. farmers planted 20 percent less this season. Canada cut acreage by 16 percent, sowing more canola than wheat for the first time ever. Spot prices in the Golden Triangle area of Montana reached $7 a bushel from $5.25 in May and April.
At the same time, the average retail price of spaghetti and macaroni was $1.272 a pound at the end of May, according to the Bureau of Labor Statistics. The price has neither risen nor fallen by more than 13 cents in a year since 2008, even when wheat skyrocketed in 2011 and 2014.
A bushel of durum wheat can produce about 42 pounds of macaroni or spaghetti, according to Jim Peterson, marketing director of the North Dakota Wheat Commission. Even if durum prices continue to climb, it's unlikely that individual pasta packages will get more expensive, he said.
Trouble Ahead
Still, there are signs of trouble ahead for growers in North America, where the U.S. and Canada had been expected to be the world's biggest exporters of wheat after Russia. The U.S. Department of Agriculture last month forecast domestic wheat output will plunge 21 percent, the most since 1992, after farmers planted the fewest acres in a century. In Canada, production will fall 11 percent, the third decline in four seasons.
The northern U.S. has been plagued by dryness this year, and conditions for the domestic spring-wheat crop are their worst for this time since 1988. Much of North Dakota, Montana and South Dakota are in a moderate to extreme drought, according to most recent U.S. Drought Monitor data. Canada also is experiencing a hot, dry summer, according to MDA Weather Services in Gaithersburg, Maryland.
The price of spring wheat, the high-protein variety favored for hard rolls, bagels and yeast breads, has surged 52 percent this year and topped $8 a bushel this week for the first time since a devastating drought in 2012. The benchmark wheat contract on the Chicago Board of Trade is the highest in almost two years, closing Wednesday at $5.60 a bushel.
On Mattelin's 2,000-acre farm in Montana, which produces spring wheat, malting barley, peas, soybeans and sugar beets, the durum crops are stunted, thin and turning a shade of blue. It's the worst they've looked since 1988, after enduring 50-mile-per-hour winds the past month, the 64-year-old farmer said. With hot weather forecast over the next two weeks -- just as the plants are flowering to make grain -- conditions may get worse.
"I'll be lucky to have 40 percent of normal yields this year," Mattelin said.
News by Bloomberg, edited by ESM. Click subscribe to sign up to ESM: The European Supermarket Magazine.