French Silos Keep Higher Wheat Standard As Rain Hits Crop
Published on Jun 23 2016 2:13 PM in Supply Chain tagged: Trending Posts / France / Wheat / grain / Socomac / Senalia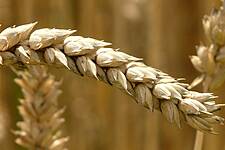 French silos that store wheat backing Euronext futures will maintain a higher standard of grain than the exchange, just as floods across the country threaten crop quality.
Warehouse operators Socomac and Senalia will maintain protein levels at a minimum 10.5 percent for the 2016-17 season that starts next month, they said this week. They've also set standards for Hagberg, an indicator of baking quality. Paris wheat futures won't require minimum protein and Hagberg levels until September 2017.
The depots are keeping their standards after the most rain since 1959 in parts of France risks damaging crops. Because the terms exceed what Euronext currently requires, that's fueled concern that some traders won't be able to deliver into warehouses, even if the grain meets the exchange's specifications.
"A lot of my clients see that the Euronext contract doesn't have protein or Hagberg content requirements," Pierre Tronc, a broker at Aurel BGC in Paris, said by phone Wednesday. "Many would like to deliver but are unsure whether silos will allow them to."
Crop Risk
The wet weather means crops are more prone to fusarium, a fungus that can produce mycotoxins in grains, potentially affecting both human and animal health if it enters the food chain. It has also increased the chances of septoria, a fungus that produces small oval- to diamond-shaped spots on leaves, according to FranceAgriMer.
Euronext wasn't immediately able to comment.
Senalia on Monday said it would keep the Hagberg level at 170 while Socomac, owned by Groupe Soufflet, said Wednesday the base level will be 220, with a tolerance to 170s. Export depots, such as those used by Euronext, can earn more from handling the transfer of grain rather than just storing it. Accepting lower-quality wheat may mean keeping it for longer.
The quality terms are "specified in our silo general terms of use," Jean-Francois Lepy, director of trading at Soufflet Negoce, said by e-mail. "It is harmonized with Senalia and Sica Nord Dunkerque, therefore there is no distortion among delivery silos."
Silos approved by Euronext began imposing their own delivery terms after torrential rainfall two years ago damaged crops. That prompted the Paris-based bourse to start premium-quality wheat contracts, which were later suspended due to a lack of trading. The exchange will also add additional requirements for its current contract, which will take effect in 2017-18.
Rival Contract
Uncertainty over what quality traders will be able to deliver on Euronext may spur some to support a rival contract from CME Group Inc., which is due to start in September. The new futures, announced Monday, will allow for deliveries at French warehouses inland, giving traders the opportunity buy and store wheat for sale at a later date. Facilities storing grain backing Euronext contracts usually export the grain after delivery, so traders aren't able to sell it at a later date.
"The market will decide between CME and Euronext," Philippe de Raynal, chief executive officer of Axereal, said in an interview in Chartres, France, last week. "They have a very different approach."
News by Bloomberg, edited by ESM. To subscribe to ESM: The European Supermarket Magazine, click here.