Mexico Looks To Europe After Slapping Tariffs On US Pork
Published on Jun 7 2018 10:00 AM in Supply Chain tagged: Mexico / Pork / Tariffs / Pigmeat / trump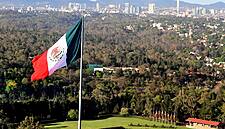 Mexico will import more pork products from Europe after imposing a 20% tariff on US pork legs and shoulders in retaliation to steel tariffs, Economy Minister Ildefonso Guajardo has said.
About 90% of Mexico's $1.07 billion annual imports of pork legs and shoulders come from US suppliers and the country expects to import more from elsewhere to avoid pushing prices higher for the cuts used to make hams and other processed meats.
Retaliation
After US President Donald Trump imposed steel and aluminum tariffs on its NAFTA trading partners, Mexico retaliated against pork, steel and products ranging from light fittings to bourbon.
The countermeasures could hurt farmers and industry in states that supported Trump in 2016 ahead of mid-term elections in November. Chicago Mercantile Exchange hog futures deferred trading months at one point fell more than 2% following the Mexico pork tariff news.
At the same time as imposing the tariff on US pork, Mexico opened a 350,000-tonne quota for imports of the meat from other countries. Guajardo said that quota would cover demand for the rest of the year.
"It will surely come from Europe, from some European countries. The idea is to avoid an impact on the supply chain for processed meats so there is not an impact on the consumer," he said at an event in Mexico City.
New Markets
Bosco de la Vega, head of Mexico's National Agricultural Council, the country's main farming lobby, said Mexico had sanitary agreements for pork legs with 11 countries, and that Brazil, a major pork producer, was not on the list.
"With Brazil we don't have the sanitary measures. That's why it is not being considered," he told Reuters.
Canada, Australia, New Zealand, Denmark, Chile, Spain, France, German, Italy, Belgium and the United States can all sell pork legs to Mexico, he said.
Earlier this year, Mexico and the European Union reached a provisional agreement on an expanded trade deal adding farm products including pork to the tariff-free list. The new deal is not yet in effect.
Some US industry analysts said it would not be easy, or cheap, for Mexico to switch to suppliers further afield than its northern neighbour.
"For better or worse, Mexico has become as much dependent on the U.S. for the pork that it feeds its people as the US has become dependent on Mexico," said Altin Kalo and agricultural economist with Steiner Consulting Group in Manchester, New Hampshire.
He said pork supplementing pork from other countries would require it be frozen, raising handling costs.
"In the short term, we don't think there are any simple ways for Mexico to replace the pork it currently buys from the US."
News by Reuters, edited by ESM. Click subscribe to sign up to ESM: European Supermarket Magazine.