Valio Introduces 'Responsibility Bonus' For Dairy Farmers
Published on Jan 4 2018 12:30 PM in Supply Chain tagged: Dairy / Valio / finland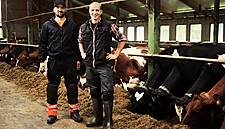 Finnish dairy company Valio has announced that it will pay a one cent 'responsibility bonus' per litre of milk to its farmers who produce dairy responsibly.
This move is part of larger reforms at Valio, which are aimed at promoting a better quality of life for animals involved in dairy production, according to the company.
Currently, about 80% of its dairy farms are covered by the initiative and it has said it aims to have all of its farms involved by 2020.
"We're delighted to see that dairy farmers throughout Finland are so committed to these changes," said Juha Nousiainen, director of farm services at Valio.
"About 4,600 of the 5,800 dairy farms in the Valio group are already following the new guidelines. We will continue to provide local training, and expect a lot more farms to join the programme this year."
New Guidelines
The company argues that the scale of the reforms are large enough to be comparable to the Finnish social and healthcare reforms. It outlines several new guidelines for farmers who want to become involved.
To receive the 'responsibility bonus', dairy farms must be registered with the centralised Finnish healthcare register for cattle called 'Navesa'.
They must also implement regular monitoring of the condition of hooves and make sure that pain relief and sedatives are given to calves as part of dehorning, as well as ensure that this procedure is carried out under the supervision of a vet.
Additionally, every new barn must be a free-stall barn, meaning that it is constructed in a way that allows for cows to freely access the outdoors for grazing. At present, a total of about 55% of the cows on Valio farms live in such cowsheds, the company said.
Valio also requires that the animal feed is free of soy and GMOs. The company said that the welfare of animals on Valio's farms is good by international standards and that about 96% of milk it receives is of the highest quality category.
Consumer Support
A consumer survey by the company carried out in December 2017 revealed that a majority of respondents believed that animal welfare is one of the most important ways in which Valio has an effect on Finnish society.
Two thirds said that they considered quality and production reforms, such as the one cent incentive, to be a major step forward in ensuring greater responsibility.
"Animal welfare is increasingly important to consumers," said Nousiainen. "Responsible production is absolutely essential for ensuring ethical milk production, and for ensuring that dairy products remain attractive to consumers."
The survey was carried by the communications company Prior Konsultointi Oy and involved over 1,000 participants, aged 18 to 75, who were representative of the overall Finnish population, according to Valio.
Strict Regulations
Finland has strict regulations on dairy production by international standards. For example, antibiotics are only administered when prescribed by a vet in response to a health issue, as opposed to preventative administration of antibiotics common in other jurisdictions.
"Finnish cows are already the healthiest in the European Union, which is why, for example, we use antibiotics very little compared to other EU countries," said Vesa Kaunisto, chairman of the board at Valio. "We support and encourage the dairy farmers to focus more than ever on animal welfare."
Valio recently announced it will hold a dairy innovation hackathon in February, with specialists from around the world aiming to find solutions for a more environmentally friendly milk production.
© 2017 European Supermarket Magazine – your source for the latest retail news. Article by Kevin Duggan. Click subscribe to sign up to ESM: The European Supermarket Magazine.