Amazon Turns To Debt Markets To Back Grocery Conquest Plans
Published on Aug 15 2017 3:45 PM in Technology tagged: Amazon / USA / Bonds / Jeff Bezos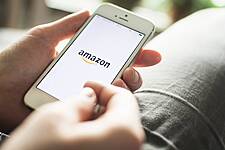 Amazon.com Inc. is turning to the debt markets to fund the acquisition of Whole Foods Market Inc. and power Jeff Bezos's planned conquest of the supermarket business.
The world's largest online retailer is selling unsecured bonds in as many as seven parts, according to a person with knowledge of the matter. The longest portion of the offering, a 40-year security, may yield 1.6 percentage points to 1.65 percentage points above Treasuries, said the person, who asked not to be identified as the deal is private.
Bond Offer
Amazon is offering bonds for the first time since 2014 to support the $13.7 billion purchase of the organic-food chain, according to a company statement, a deal that rattled the grocery world in June. The partnership is expected to reduce prices at Whole Foods, an iconic yet struggling high-end grocery trying to lure more low- and middle-income shoppers. The deal could intensify a price war in an industry beset by razor-thin margins and persistent deflation.
The e-commerce giant is approaching the market following mega bond deals from AT&T Inc. ( $22.5 billion) and British American Tobacco Plc ( $17.25 billion), and Moody's Investors Service said this one could be as high as $16 billion.
It also comes at a time when tech companies have been active debt issuers, including a debut offering from Tesla Inc. on Aug. 11, and Apple Inc. announced Tuesday its first Canadian-dollar debt sale. An onslaught of supply as well as rising geopolitical tensions in the Korean Peninsula has added to the extra yield that investors demand over Treasuries.
Expected Reception
"Despite recent market volatility and indigestion, we would expect this deal to be very well-received," said Matt Brill, a money manager at Invesco Ltd.
Bezos, briefly the richest person in the world last month, has built Seattle-based Amazon into a retail giant since its 1994 founding. It introduced the Kindle book reader, adding cloud computing services, producing original television and film programming and selling the home voice recognition product Echo. A surge in the value of Bezos's stake in Amazon has allowed the company founder to personally invest in such projects as his $250 million purchase of the Washington Post in 2013.
Amazon's growth also allowed Bezos to turn his gaze onto the supermarket business, where the online retailer has struggled to gain traction. Shares of grocery giants Wal-Mart Stores Inc. and Kroger Co. tumbled after the sale announcement.
Infrequent Issuer
Amazon has been an infrequent issuer in the investment-grade bond market, with only $7.8 billion of debt outstanding as of June 30. It's rated Baa1 by Moody's and AA- by S&P Global Ratings with a stable outlook.
Amazon hired banks last week to arrange a series of fixed-income investor calls, a person with knowledge of the matter said at the time. It has received a bridge loan for $13.7 billion from banks led by Bank of America Corp. and Goldman Sachs Group Inc. to temporarily finance the acquisition. Seattle-based Amazon said in June that it expects to finance the takeover with debt and cash.
"Despite the increase in debt, the Whole Foods acquisition is an immediate credit positive for the company on a variety of fronts," Moody's analyst Charlie O'Shea said in a report, revising Amazon's outlook to positive from stable. "Whole Foods provides Amazon with greater scale and a crucial brick-and-mortar presence in a segment where it has been trying to grow."
Bank of America, Goldman Sachs Group and JPMorgan Chase & Co. are managing the bond sale, the person said.
News by Bloomberg, additional reporting by ESM. Click subscribe to sign up to ESM: The European Supermarket Magazine.