Chase, Walmart Seek To Disrupt Mobile-Payments Business In 2016
Published on Jan 3 2016 10:04 AM in Technology tagged: Mobile Payments / Wal-Mart / Chase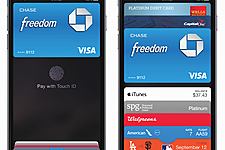 American consumers will have more choice in 2016 for how they make purchases with their smartphones, as big banks and retailers vie for market share against tech giants Apple, Inc. and Google.
Companies like JPMorgan Chase & Co. and Wal-Mart Stores, Inc. are rolling out their own products just as mobile-payment apps are catching on. By 2019, eMarketer estimates that the total value of transactions made by tapping a phone on an in-store terminal will reach $210 billion, up from $8.7 billion in 2015. For banks and retailers, that presents an opportunity to take on Apple Pay and Google's Android Pay, and maybe save on transaction fees to boot.
"Every one of the top 11 issuers of credit and debit cards by the end of the year will have their own version of Pay," said Richard Crone, chief executive officer of Crone Consulting LLC. "Same for retailers. The big losers are going to be the ones with nothing."
At stake is a fight over money and consumer data. Retailers loathe paying fees to accept credit cards in their stores, and have long sought better data on what their customers buy, and when. Banks similarly dislike paying fees for Apple Pay transactions. Thus, financial institutions and retailers have incentive to push out their own mobile-payment services.
Here are some of the mobile wallets that will compete for consumers' attention in 2016:
Chase Pay
JPMorgan Chase plans to introduce its own mobile wallet in mid-2016. Mobile-banking apps are already used by more than half of US smartphone owners with bank accounts, according to the latest Federal Reserve survey. Chase plans to pre-load cards for 94 million customer accounts "so the customer doesn't have to do anything but accept the terms and conditions", Gordon Smith, CEO of consumer and community banking at JPMorgan Chase, said in a keynote at the Money20/20 conference in October. Chase still wants its cards in all mobile wallets and has decided to support Apple Pay, Samsung Pay and other competing services.
Walmart Pay
Walmart will begin accepting payments through its mobile app in all US stores in the first half of 2016. About 22 million Walmart shoppers already use the app, which compares prices and offers discounts on items and will now let customers store their credit- and debit-card information.
MCX
Merchant Customer Exchange, consortium founded in August 2012 by merchants including Walmart and Target Corp., is testing its CurrentC app with approximately 200 merchants in Columbus, Ohio. The service is not yet available nationwide. "There will be more than one successful player in the mobile-payments space, and we fully expect to be one of them," said Brian Mooney, chief executive officer of MCX.
Apple Pay
Apple Pay is the market leader in tap-and-pay transactions, even after experiencing growing pains in 2015. The service's in-store payment feature, however, only works with the latest Apple iPhones.
Android Pay
Google revamped its mobile-wallet service after scooping up rival Softcard, a joint venture of three wireless carriers. The company said in a 15 December blog post that "millions of people" had signed up for the new Android Pay, with the majority using their Android smartphones to tap and make purchases for the first time.
Samsung Pay
Samsung Pay debuted in South Korea in August and became available in the US in September. By October, US Samsung Pay users made an average of eight transactions each. Unlike Apple Pay or Android Pay, Samsung's mobile-payment service works on older in-store terminals, ensuring wider usage. Samsung Pay is only available on newer Galaxy smartphones.
PayPal
PayPal users can make purchases with their smartphones in a variety of ways, including at Macy's, Inc. and Home Depot, Inc. retail stores. In 2016, the company will introduce a feature that will let customers tap their phones to pay in stores, pitting it more squarely against Apple Pay and Android Pay. PayPal has 173 million active users and can work on both the iPhone and Android phones like the Galaxy.
The mobile-payment field is getting crowded despite slow consumer adoption. About 1 per cent of US households making at least $75,000 a year were expected to do their holiday shopping using a mobile wallet, according to Bankrate's Money Pulse survey.
"The reality is, nobody has nailed the in-store experience yet," said Anuj Nayar, senior director of global initiatives at PayPal.
News by Bloomberg, edited by ESM. To subscribe to ESM: The European Supermarket Magazine, click here.