MasterCard Said to Discuss Target Breach Settlement
Published on Apr 15 2015 5:35 AM in Technology tagged: Target / MasterCard / card / breach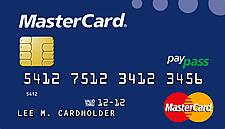 MasterCard and Target are in talks about a settlement in which the retailer would pay banks about $20 million for costs they incurred in its 2013 data breach, a person familiar with the matter said.
The deal would cover the cost of reissuing bank cards and for any fraud that resulted from the breach, said the person, who asked not to be identified because the talks are private. MasterCard would distribute Target's funds to the banks that issue the network's credit cards, and their negotiations are separate from discussions Target is in with Visa.
Jim Issokson, a spokesman for Purchase, New York-based MasterCard, and Evan Lapiska, a spokesman for Target, declined to comment. The Wall Street Journal reported the possible deal earlier Tuesday.
Target has estimated that hackers stole credit- and debit-card data, as well as personal information, for as many as 110 million customers during the 2013 holiday shopping season. The Minneapolis-based retailer last month agreed to pay $10 million to at least 70 million customers whose personal information may have been taken.
Bloomberg News, edited by ESM