Good Thing Tesco's Found A Friend For Tough Times Ahead: Gadfly
Published on Jun 16 2017 3:30 PM in Retail tagged: Tesco / UK Retail / Dave Lewis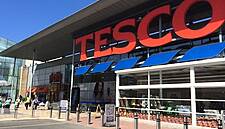 Earlier this week, industry experts named Tesco Grocer of the Year, an annual award that's the equivalent of a supermarket Oscar. It's the first time it's won in 11 years.
Dave Lewis, Tesco chief executive, might take that - and Friday's stellar sales growth report - as a sign that the turnaround he began in 2014 is finally bearing fruit.
But he shouldn't be cracking open the Tesco Finest Vintage Champagne just yet. The consumer environment is darkening, and the German no-frills supermarkets are on the rise. Tesco still needs its £3.5 billion ($4.5 billion) takeover of Booker to put clear distance between itself and its big rivals.
Sales Report
Tesco's 2.3% increase in UK like-for-like sales was no doubt helped by rising food prices. When prices fall, as they did for most of the past three years, supermarkets have to sell more loaves of bread or tins of beans to generate the same value of sales.
Lewis says Tesco is not raising prices as much as rivals. Kantar Worldpanel, the consumer research group, estimated at the end of last month that food prices were rising at a 2.9% rate, and Lewis reckons Tesco's inflation figure is 1.5 percentage points less than that.
That might explain why the company's outperformance versus Wal-Mart Stores's Asda, Sainsbury's and Morrison Supermarkets has waned this year, according to Kantar. The volume of products sold has remained stable, Lewis says, with fresh food volumes significantly ahead of the competition.
Performance
Tesco shares rose as much as 4.5% in early trading, before swinging to a loss. They are still down about 13% so far this year, amid concerns about the Booker purchase, and fears that its own recovery was running out of steam.
The first-quarter performance should alleviate some worries about the health of its turnaround. Still, the company faces a delicate balancing act. Keeping prices low enough to fend off the German discounters and expanding margins at the same time was always going to be a tall order. Now, this is only going to get more difficult to pull off.
Tesco has pledged to increase operating margins from 2.3% in the year to the end of February to between 3.5% and 4% by 2020. At the same time, it has to keep prices under control to defend its market share from the ever-growing UK arms of the German discounters. That means it must achieve its cost saving target of £1.5 billion. That shouldn't be too much of an issue, as it is already making good progress here.
Potential Issues
The trickier proposition is keeping prices low. Lewis says the company has been working with suppliers to help contain cost increases. As Britain's biggest supermarket by market share, and one generating volume growth, it is in a good position to secure the best deals from manufacturers. But it needs to be wary of pushing suppliers too hard, as it also needs to convince competition regulators that a Tesco/Booker combination won't have too much power over them.
It insists that it doesn't need the Booker deal - which some of its own shareholders oppose - to reach its margin goal. But actually, the acquisition will come in pretty handy. Veteran retail analyst Dave McCarthy at HSBC estimates that it could generate cost savings of £500 million, compared with the 200 million pounds that the two companies have projected.
That would give Tesco a bigger war chest to keep cutting prices. The greater buying scale from Booker - not to mention the management benefit from the arrival of its chief executive officer, Charles Wilson - will help here too.
The last time food prices rose, Tesco raised prices and sent its customers into the arms of Aldi and Lidl. There will be no awards if Lewis makes the same mistake this time round.
News by Bloomberg, edited by ESM. Click subscribe to sign up to ESM: The European Supermarket Magazine.