UK Should Strive For Partial Customs Union With EU, IOD Says
Published on Feb 16 2018 10:00 AM in Supply Chain tagged: Brexit / UK Trade / Customs Union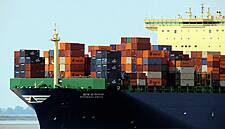 Britain should aim for a partial customs union with the European Union once it quits the bloc, according to the Institute of Directors.
An agreement covering industrial goods and processed agricultural products would help maintain the competitiveness of some of the UK's key industries, while allowing the government to forge an independent trade policy, the IOD said in a report published Friday.
Members of customs unions refrain from imposing tariffs on each other's goods and agree to impose common external tariffs.
While the government has made leaving the EU single market and current customs union a core part of its Brexit strategy, that focus has detracted from a debate over a new agreement in which the UK could ultimately remain a part of some form of customs union with the EU, the report said.
Trade Agreements
One argument for leaving the EU is that it will allow the UK to strike independent trade deals with other countries.
A partial customs union alongside a new trade agreement "would ensure Brexit would not unduly damage the UK's manufacturing industry, would facilitate the flow of goods across the Irish border, and simultaneously would allow the UK to pursue an independent trade policy - albeit with some coordination on the areas covered by a shared external tariff," the IOD's head of EU and trade policy Allie Renison said in the paper.
Prime Minister Theresa May has advocated a clean break with the EU. Boris Johnson also made the case for leaving the customs union and single market this week, saying "the economic benefits of membership are nothing like as conspicuous or irrefutable as is sometimes claimed."
Britain is due to leave the bloc in just 13 months. Before then, the EU and the UK must wrap up the withdrawal treaty, the terms of a grace period to cushion businesses, and the outline of a future trading relationship.
News by Bloomberg, edited by ESM. Click subscribe to sign up to ESM: The European Supermarket Magazine.