Tight Wheat Supply Risks Leaving UK Reliant On Imports Again
Published on Jul 20 2017 9:52 AM in Supply Chain tagged: UK / Wheat / UK EU Trade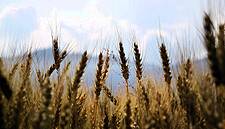 The UK, the European Union's third-largest wheat grower, is entering the new season with the unusual prospect that it may be a net importer of the grain for a second straight year.
The crop that farmers are about to start collecting is expected to remain little changed from the 2016 harvest, which was a three-year low. Smaller supply and bigger demand prompted UK imports in the 2016-17 season that ended last month to exceed exports for just the fourth time in the past two decades.
Local consumption has risen following the reopening of an ethanol plant, where the biofuel is made using feed wheat, the type traditionally favoured by British growers. Supplies of the feed grain may be further tightened after farmers favoured planting more seeds of a variety that's likely to yield milling wheat, which is used to make bread and fetches a premium. Concerns about a shortage helped push UK feed-wheat futures to a three-year high earlier this month.
"If we are going to have a similar type of total domestic consumption as last year, then we will import a lot more wheat and reach import parity sooner than we did in 2016-17," said Rupert Somerscales, a consultant at Offre and Demand Agricole UK. He expects the UK's wheat crop to total 14.4 million to 14.7 million metric tonnes.
ODA's estimate is similar to the International Grains Council's forecast for output at 14.4 million tonnes. That would be little changed from a year earlier, when production dropped about 12%, leading to a drawdown in stockpiles.
Net Importer
UK wheat imports probably exceeded exports by about 200,000 tonnes in the season that ended June 30, according to preliminary government data. That compares with average net exports of about 1.2 million tonnes in the previous 20 years.
The share of plantings matters because most of the UK's feed wheat goes to animal food or local ethanol production, while the milling variety is used to make flour or favoured for exports to markets such as North Africa. Milling varieties accounted for 40% of the total area for 2017, the most in a decade, while the share of a type of feed grain fell to 48%, the least since 2009, the Agriculture & Horticulture Development Board said.
Exports at the start of this season are unlikely to be as large as a year earlier, when a weaker pound boosted the allure of British supplies, said Benjamin Bodart, a director at adviser CRM AgriCommodities in Newmarket, England. A rally in UK wheat prices has since reduced the grain's competitiveness, and there are less supplies available to ship out.
"Stocks are already tight, so with an average crop it is unlikely we will see strong exports at the beginning of this campaign like last season," Bodart said.
While the quality and size of this year's crop will become clearer as harvesting picks up, yield potential in some areas was probably hurt by June's heat wave, which shortened the gap between flowering and harvesting, said Tom Bradshaw, a farmer in Colchester, England, who's preparing to begin collecting his wheat later this week.
"It is difficult to predict the pace of exports and imports for the season as the yields and quality of the UK crop is still unknown," said Millie Askew, an analyst at AHDB Market Intelligence. "The final picture will depend on a lot of factors other than just the domestic crop."
News by Bloomberg, edited by ESM. Click subscribe to sign up to ESM: The European Supermarket Magazine.