Milk Spilled Into Manure Pits as Supplies Overwhelm U.S. Dairies
Published on Jul 2 2015 7:08 AM in Fresh Produce tagged: Dairy / Milk / milk prices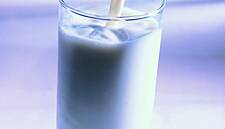 There's so much milk flowing out of U.S. cows these days that some is ending up in dirt pits because dairies can't find buyers.
Domestic output is set to be the highest ever for a fifth straight year. Farmers are still making money as prices tumble because of cheaper and more abundant feed for their herds. Supplies of raw milk are topping capacity at processing plants in parts of the U.S. and compounding a global surplus even with demand improving.
Agri-Mark, a 1,200-dairy cooperative in New England that had $1.1 billion of sales last year, started pouring skim milk last month into holes used for livestock manure. It was the first time in five decades, and farmers so far have unloaded 12 truckloads, or 600,000 pounds (272 metric tons). While having small amounts of milk spoil or go unsold isn't unusual, Northeast dairies dumped 31 percent more this year through May than the same period of 2014, government data show.
"Usually we'd find someone to buy it at a reduced price, or ship it to the Midwest," said Bob Wellington, a senior vice president at Andover, Massachusetts-based Agri-Mark, which was founded in 1913. "But those plants are full. There's no way to process it in the time needed for a perishable product."
Domestic output in May reached 18.4 billion pounds, the most in any month, and is on pace to reach a record 208.7 billion pounds this year, the U.S. Department of Agriculture said. Globally, production will rise 2.1 per cent to a record 582.52 million tons as top exporter New Zealand sells the most ever and the European Union ends limits on dairies that had been in place since 1984, the USDA said.
"The world needs less milk," said Eric Meyer, president of HighGround Dairy, a Chicago-based broker.
Global dairy prices have dropped 39 percent from an all- time high in February 2014 and are the lowest in five years, United Nations data show.
Bloomberg News, edited by ESM