Valio To Increase Renewable Raw Materials In Its Packaging
Published on May 10 2015 10:41 AM in Packaging And Design tagged: Tetra / Packaging / Valio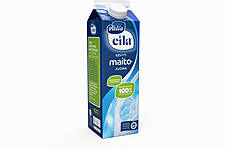 Dairy producer Valio has announced that it will increase the proportion of renewable raw material used in its packaging with the aim of using milk cartons produced from 100 per cent renewable raw materials, across its full product range.
The deployment of fully renewable packages on a large scale requires a gradual roll-out due to the limited availability of the bio-based plastics required for the manufacturing process, according to the producer. A package produced from fully renewable materials can be identified from the marking '100% renewable material'.
Having completed a three-month trial of 100-per-cent renewable milk cartons, Valio is now introducing fully renewable Tetra Rex Bio-based to its Valio Luomu organic milk and sour milk.
Tetra Rex Bio-based is manufactured solely from plant-based materials. All plastics used in the package, like the Forest Stewardship Council TM (FSCTM) certified paperboard, are traceable to their origins – 100 per cent bio-based plastic derived from sugar cane.
The proportion of renewable raw materials in other Valio milk packages is also set to increase. Valio has introduced plant-based plastic screw caps and neck fixtures in its gable-top milk packages, which are now produced from more than 88 per cent renewable materials.
In a survey carried out by Valio, more than 80 per cent of respondents said that they viewed fully renewable packages as progressive, thanks to the avoidance of finite natural resources. Over 90 per cent of respondents said that they would like Valio milk cartons to be made entirely from renewable materials in the future.
"We received extremely positive feedback from consumers during the test phase, so it was natural to move towards a more permanent use of fully renewable milk cartons," said Tanja Virtanen-Leppä, Valio's packaging technology manager.
She continued, "We have chosen to use the 100-per-cent renewable packages for our organic milk in the first instance because buyers of organic products, in particular, appreciate ecological packages."
© 2015 European Supermarket Magazine – your source for the latest retail news.