Retail Crisis Is Nowhere In Sight for Canada's Dollarama
Published on Sep 8 2017 10:20 AM in Retail tagged: Canadian retail / Dollarama / dollar stores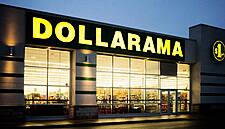 The crisis afflicting much of the retail industry has spared dollar stores in Canada, where industry leader Dollarama keeps opening new locations and improving profit margins.
Canada's largest dollar-store chain posted earnings that topped analysts' estimates last quarter and raised its gross-margin forecast for the year. While the Montreal-based company added 17 net new locations, part of the boost came from a 6.1% increase in comparable-store sales.
Continued Expansion
Dollarama is growing faster than US dollar-store chains, helped by a Canadian market that's less saturated than its southern neighbour and an longstanding policy to stay away from fresh food. The success of new items priced C$3.50 ($2.90) to C$4, efforts to boost productivity and a penny-pinching approach to business emboldened the company to ramp up its expansion plans earlier this year.
Dollarama was the top gainer on the S&P/TSX Composite Index, rising 5.2% to C$128.13 at 9:59 am in Toronto, its biggest gain in more than five months. The stock is up 30% this year.
The chain also is now accepting credit cards in all stores after trials that started more than five years ago, a testament to how the company proceeds with important decisions, Chief Financial Officer Michael Ross said in an April interview. The new payment method helps explain a 5.9% increase in the average transaction size from the earlier quarter.
Second-quarter earnings rose to C$1.15 a share, topping the C$1.04 average estimate. Total sales came in at C$812.5 million, above the C$808.2 million projected.