FDA Warns Bakery Company 'Love' Is Not An Ingredient In Granola
Published on Oct 4 2017 1:00 PM in A-Brands tagged: FDA / Granola / Nashoba Brook Bakery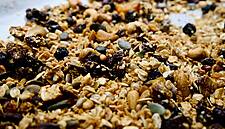 The US Food and Drug Administration on Tuesday released a warning letter to Nashoba Brook Bakery, reprimanding the West Concord, Massachusetts-based baker and wholesaler about the ingredients it lists in its granola.
One, in particular.
"Your Nashoba Granola label lists ingredient 'Love,'" the agency wrote in the September 22 letter. "'Love' is not a common or usual name of an ingredient, and is considered to be intervening material because it is not part of the common or usual name of the ingredient."
Nashoba Chief Executive Officer John Gates said the FDA's take on love as an ingredient "just felt so George Orwell."
"I really like that we list 'love' in the granola," Gates said in a telephone interview Tuesday. "People ask us what makes it so good. It's kind of nice that this artisan bakery can say there's love in it and it puts a smile on people's face. Situations like that where the government is telling you you can't list 'love' as an ingredient, because it might be deceptive, just feels so silly."
The bakery was also warned about products that were "prepared, packed, or held under insanitary conditions whereby they may have become contaminated with filth, or whereby they may have been rendered injurious to heath."
In an emailed statement, the FDA said that the concerns about "love" were "not among the agency's top concerns." The bigger violations were sanitary issues, according to the agency.
"The agency expects the company to correct the serious violations found on FDA's inspection, as noted in the warning letter," the agency said in the statement.
'Nanny State'
Nashoba sells its products in about 120 stores, mostly in Massachusetts and New Hampshire, according to its website. The company, which has been in business 20 years, has about 75 full and part-time employees and does about $4.5 million to $5 million in sales a year, Gates said.
Some of FDA's observations, particularly on some of the sanitation issues, were helpful, Gates said. Others he described as "nanny state," such as the "love" disagreement and an FDA critique over Nashoba calling one of its breads whole wheat.
Gates said they'll comply with the FDA and plan to send a response to the agency in the next week - but he's disappointed.
"Reducing regulations at the federal level is a topic that everybody talks about," he said. "Some of these requirements, those kind of things don't sit right with me."
News by Bloomberg, edited by ESM. Click subscribe to sign up to ESM: The European Supermarket Magazine.