Coming Up In ESM Issue 1 2017
Published on Dec 8 2016 8:00 AM in Features tagged: Tesco / ESM / Ahold Delhaize / 2017 / Issue 1 / EuroShop / M.A.D.E.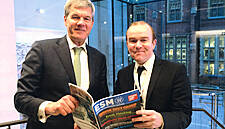 The first issue of ESM: European Supermarket Magazine of 2017 will be published at the end of January, and looks set to start the new year off with a bang, offering readers everything they need to know to plan for the year ahead.
Articles to look forward to in this issue include:
ESM meets Dick Boer, chief executive of Ahold Delhaize (pictured above with ESM editor Stephen Wynne-Jones), to get an overview of how the group's newly formed Better Together strategy will result in greater cost efficiencies and synergies, particularly in the Netherlands and Belgium.
The world's largest retail trade fair, EuroShop returns to Düsseldorf on 5 to 9 March 2017, featuring more than 2,500 exhibitors from over 50 countries. ESM looks forward to what visitors can expect, as well as present our guide to the must-visit stands.
We chat to Dave Lewis, chief executive of Tesco to discuss how the retailer is positioning itself as a champion of sustainability, as well as examine how it has developed a more positive platform for growth following two years of restructuring.
We report from the recent Consumer Goods Forum Sustainable Retail Summit, a key forum for debate and discussion about the sustainability and ethical issues affecting the industry, which welcomed some of the biggest names in retail and FMCG to Paris.
MDD Expo, one of the leading trade shows for private label in Europe, has rebranded for 2017, as M.A.D.E. (Marques Associées Distribution Event). ESM looks forward to what promises to be a significant event in the French trade show calendar.
We examine how the Dairy Products industry is positioning itself to better meet the needs of an increasingly demanding consumer base, as well as look at what leading suppliers are doing to create a USP in this space.
ESM visits Sweden to meet packaging giant Tetra Recart, part of Tetra Pak, to discover how the company is putting innovation at the heart of everything it does, as it develops new packaging concepts for the food and beverage industries.
Plus much much more!
To subscribe to ESM: The European Supermarket Magazine, click here. For details of our advertising packages, click here.