US Tells UK To Stop Saying American Chicken Isn't Safe To Eat
Published on Jan 4 2018 4:00 PM in Supply Chain tagged: chicken / Brexit / US trade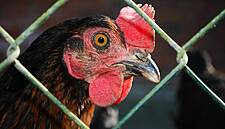 The US warned Britain it is "sick and tired" of hearing that American chicken isn't safe to eat, after an outcry over whether poultry treated with chlorine should be served on British dinner tables after Brexit.
Washing chicken carcasses with chlorine no longer happens in the US, and the quality of American products is every bit as good as British food, according to Ted McKinney, undersecretary for trade at the US department for agriculture.
McKinney said Michael Gove, the British environment secretary, privately assured US officials that he would try to draw a line under the dispute because it was not fair to American poultry producers. He added that he'll be checking Google to make sure Gove keeps his word.
"We would like all of British society to understand that is not a practice that's in use very much," McKinney said in an interview in Oxford, England, on Thursday.
"The quality of our poultry, we'd put up against UK poultry any day of the week and twice on Sunday."
The chicken row marks a fork in the road for Prime Minister Theresa May's Brexit policy that reflects the choices she'll face about Britain's future.
It suggests she'll need to decide between turning toward a trade deal with the US or staying close to the European Union to maintain existing commercial links and consumer standards.
I'll Google You
Chlorinating chicken carcasses is allowed under US rules, although it has become less common as sanitation practices have evolved. The EU bans it.
McKinney said Gove had promised the US it will not rehash the argument that a free-trade deal between the two countries will see chlorine-treated chicken sold in British shops and restaurants.
Asked what Gove had promised, McKinney said: "That he would not conflate chlorinated chicken" with food safety standards, "and that that is passe, we don't do that at all any more and for anybody to be talking about that is categorically unfair."
He added: "So we're going to hold him at his word just as we'd have him hold us to our word."
McKinney said he was making a "friendly" point but added that he did want the chlorine chicken argument to stop. "Yeah, we do because we're sick and tired of that."
Trump Card
In the longer term, Gove and his British government colleagues have a choice to make. May wants a trade deal with the US and has discussed the matter with President Donald Trump.
Working groups have begun discussing the shape of the agreement, which both sides say they would like to conclude quickly.
If May doesn't cut EU regulations - such as those banning chemical treatments of poultry products - she risks compromising any agreement with the US.
"We hope that the UK will look for its own food standards, environmental safety protocols," McKinney said. "We find the EU a very difficult place to do business and so we hope that as part of Brexit, the reset button can at least be considered."
If some of the burdensome sanitary regulations are removed, "there is a much greater opportunity for trade between the UK and US," he said.
Speaking to reporters at the same Oxford Farming Conference, Gove said he couldn't "pre-empt" what would result from any trade deal with the US. He promised there would be no reduction in animal welfare standards and other quality issues.
News by Bloomberg, edited by ESM. Click subscribe to sign up to ESM: The European Supermarket Magazine.