Coming Up In ESM Issue 4 2018
Published on Apr 27 2018 4:59 PM in Features tagged: ESM / ESM: European Supermarket Magazine / ESM Issue 4 2018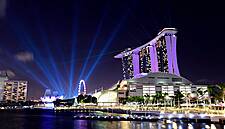 Copy Deadline: Thursday 28 June
Goes to Press: Tuesday 2 July
If you're looking for inspiration, ESM: European Supermarket Magazine Issue 4 2018 is the place to find it, as we showcase some of the most eye-opening new store concepts in our annual Europe's Finest report, as well as report on some of the key learnings from the annual Consumer Goods Forum Global Summit, taking place this year in Singapore. We also explore the latest developments in the Olives and Olive Oil, Bread and Pastry Products, and Hot Drinks markets.
Europe's Finest 2018: Celebrating New Store Design
ESM: European Supermarket Magazine is proud to present the return of Europe's Finest, our look at the most innovative store developments, openings and redesigns over the past 18 months. In this special annual report, we pay tribute to those retailers across Europe that are breaking the mould, delivering new twists on old formats, or rethinking the store concept altogether. Click here to see the stores that made the cut in last year's edition.
Consumer Goods Forum Global Summit Report
ESM presents a special report from the Consumer Goods Forum Global Summit, taking place at the Marina Bay Sands Hotel in Singapore in June (pictured above). The Summit will feature presentations and discussion from some of the biggest names in global retail and FMCG, including James Quincey, chief executive of Coca-Cola; Daniel Zhang, chief executive of Alibaba; Ian McLeod, chief executive of Dairy Farm; Theo Spierings, CEO of Fonterra; and David Taylor, chief executive of Procter & Gamble, to name but a few. ESM is a media partner for this exclusive annual event.
Table Olives and Olive Oil
The rise of healthy eating, coupled with consumer demand for alternative snacking options, has provided a boost to the Table Olives and Olive Oil categories. In addition, high quality production from right across Europe is providing no end of choice for consumers. ESM looks at the trends behind the growth of these categories, as well as explore where future growth will come from. We also speak to the companies behind some of the most impressive innovations in this upwardly-mobile category.
Loyalty Programmes
Retail is founded on relationships: between retailers and suppliers, and most importantly between stores and their customers. The competitive nature of the market means that customer loyalty is now arguably more important than ever, and while the loyalty programmes of yesteryear were built solely around cards and 'points', loyalty is now a complex business, with efficiency and privacy almost as important to shoppers as discounts and rewards. In this special report, we talk to major loyalty providers about how they are shifting focus to meet the needs of the modern customer.
Tea, Coffee and Hot Drinks
The Tea, Coffee and Hot Drinks categories are undergoing something of a Renaissance at present, as consumers are able to savour that 'coffee shop experience' in the comfort of their own homes, thanks to a stream of innovations in the sector. In addition, growing interest in health and wellbeing is also giving a boost to the Tea segment, with sales of 'green' and infused varieties on the increase. ESM reports on this dynamic industry.
Bread And Pastry Products
A consumer staple, the Bread and Pastry Products categories are going through a period of change at present, driven by multiple consumer demands - on the one hand, the consumer is seeking out more premium, artisan offerings, while on the other, they continue to 'watch the carbs', and are seeking out healthier variants of the products they love. One thing's for sure, it's certainly a category to watch. ESM reports.
Plastic Packaging In Focus
Recent efforts to improve product recyclability are likely to influence production methods at major plastic packaging producers, with the EU aiming for all plastic packaging in the EU to be reusable or recyclable by 2030. Moody's Investors Service investigates this issue in more detail.
Plus much much more…
Subscribe now to take full advantage of this exclusive content.
Advertising
For further details on any of these features, contact the ESM sales team at:
Niall Doyle   [email protected]
Des Ball   [email protected]
Rocio Palma Perez   [email protected] 
Neill Burke  [email protected]
Alan O'Brien  [email protected]
Click subscribe to sign up to ESM: The European Supermarket Magazine. Content subject to change. For details of our sales packages, click advertise.