Coming Up In Issue 3 2019
Published on Feb 23 2019 12:37 PM in Features tagged: ESM: European Supermarket Magazine / ESM Issue 3 2019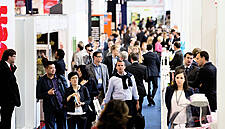 Copy Deadline: 19 April 2019
Goes to Press: 24 April 2019
It's all eyes on Amsterdam for ESM: European Supermarket Magazine's third issue of 2019, as we look forward to the biggest private label show of the year, PLMA World of Private Label, with a comprehensive overview of the latest trends in the store brand industry. We also examine the vibrant Frozen Foods and Food To Go markets, explore trends in Cold Chain Logistics, and look at how EPOS and Point-of-Sale Technologies are reshaping retail.
PLMA World of Private Label 2019 Preview
PLMA's World of Private Label trade show, the biggest dedicated private label event in the world, returns to RAI Amsterdam on 21 and 22 May, and will play host to more than 2,600 exhibiting companies, as well as 60 national and regional pavilions. In this issue, we preview what visitors to the show can expect, as well as explore the latest trends from across the always-dynamic private label landscape.
Frozen Food
Improved customer perceptions about Frozen Food are drawing more consumers back to the category, while improvements in freezing technology and supply chain efficiency are creating more choice than ever before. As well as the broad range of convenience and easy-to-prepare options, frozen is also gaining traction with consumers seeking healthy or free-from options. In our annual Frozen Food report, ESM examines how retailers and suppliers are driving category growth.
Understanding Blockchain
Blockchain is revolutionising retailer and food supply chains, offering greater transparency at all stages of the supply chain, and enabling businesses to drive greater efficiencies and optimise costs. With Albert Heijn, Carrefour, Auchan and Walmart among those that have already adopted blockchain practices, this is a technology to watch. ESM reports on a growing industry.
Convenience Foods & Food To Go
The food-to-go and convenience foods sector has never been as active, with both branded and private label manufacturers discovering new ways to meet the need states of time-poor shoppers. Growing awareness of healthy eating and food trends is also influencing the category, with healthier snacking options gaining prominence, while the private label convenience foods segment is seeing a move towards premiumisation. ESM reports.
Cold Chain Logistics
Increased efficiencies and the introduction of new technologies have reshaped the cold chain logistics sector, making it more cost-effective than ever to establish and maintain a successful, sustainable cold supply chain. But there's more to cold chain logistics than storage, and ensuring products are kept at the right temperature – from production, through to distribution and then the supermarket shelf – is increasingly in focus. ESM talks to leading manufacturers in the industry about why it is so important for retailers to 'keep things cool'.
EPOS and Point-of-Sale Technologies
EPOS and Point-of-Sale technologies have come a long way in a few short years: as well as enabling shoppers to use an increasing array of digital payment platforms and loyalty programmes, modern devices also enable retailers to gain greater data transparency over how, when, and what customers are purchasing, and help improve  customer experience. At the same time, however, retailers need to be sure that the POS system they invest in is right for their specific needs. ESM reports.
Plus much much more, including
We chat to Ian Cook, the chief executive of consumer goods giant Colgate-Palmolive.
ESM's Private Label Showcase highlights the latest store brand product launches and innovations from across the European grocery landscape.
We catch up with Andrei Matsiavin, chief investment officer at Eurotorg, Belarus's largest food retailer and private company.
Our Europe's Newsmakers section profiles the men and women making the news within the grocery retail sector over the most recent quarter.
Plus interviews with leading retail executives, industry reports, news, opinion and analysis.
Subscribe now to take full advantage of this exclusive content.
Advertising
For further details on any of these features, contact the ESM sales team at:
Niall Doyle   [email protected]
Des Ball   [email protected]
Marek Fialek   [email protected]
Rocio Palma Perez   [email protected] 
Neill Burke  [email protected]
Alan O'Brien  [email protected]
Adrian Murphy  [email protected]
Phil Lee  [email protected]ne.com
Click subscribe to sign up to ESM: The European Supermarket Magazine. Content subject to change. For details of our sales packages, click advertise.