France's Next Culinary Triumph Is Better Food Labels: Editorial
Published on Oct 3 2016 6:16 PM in Features tagged: Featured Post / France / Nutrition / food labels / Nutri-Score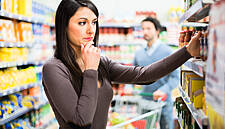 If only people could tell at a glance the nutritional content of the food they buy and eat, they could easily improve their diets. Obesity and diet-related health problems of all kinds would fall significantly. Or they would, public health officials believe, if a perfectly clear and simple food label could be devised.
The U.S. Food and Drug Administration has recently updated its label -- to highlight the calorie count and number of servings included, and provide a daily value for added sugar. It is now looking into regulations on which foods can be promoted as "healthy." The U.K., since 2013, has had prominent red-amber-green traffic-light labels showing whether the food is low, medium or high in calories, fats, sugar or salt. Early data suggests that, as a result of the voluntary program, British shoppers are buying less of salty and fatty products such as Parma prosciutto and brie.
But is there a better way? France aims to find out -- by experimenting with four new color-coded labels. This is a promising approach to figuring out how best to help consumers, and it would work even better if France would extend the study beyond its intended 10-week run.
The public experiment is part of a broad effort to reverse France's rising obesity rate. That stands at 24 percent, which, while not as high as America's 36 percent, is a burden on the French health-care system. The government has banned free refills of sugary drinks at restaurants. And now 2 million labels will appear at some of the nation's major supermarkets, including giant chains Carrefour and Casino.
Four designs are being evaluated:
The "Nutri-Score" design rates a product's overall nutrition from A for best to E for worst. The "SENS" format conveys how much a product can healthfully be eaten, from a green for "very often" to purple for "occasionally in small quantities." The "Nutri-Repère" design uses a bar chart to illustrate the product's percentages of daily recommended allowances. And the "RNJ" scheme uses color-coded symbols along with numbered amounts and daily percentages for calories, fats, saturated fats, sugars and salt.
Even before the trial begins, there's reason to suspect that the first two label designs paint with too broad a brush, by attempting to encapsulate complicated (and sometimes debatable) nutritional information into a single grade. The last two have more promise, presenting as they do information that in the U.S., for example, is available only in small print on the back of packages.
But in the relatively short time frame, the experiment may demonstrate little beyond how shoppers respond to the labels. Studying their effect on people's dietary habits would take years.
Unsurprisingly, the French plan already has plenty of critics on the continent. Politicians and food companies, particularly in Mediterranean nations, make a reasonable case that the labeling systems are biased against products with healthful fats such as olive oil, nuts and fish. Groups representing chocolate and soft-drink makers have lobbied hard to get the EU to ban the labels. (To its credit, Nestle, the largest food company in the world, supports adopting some form of nutrient profile system.) And some watchdog groups complain that industry representatives were too much involved in designing the labels.
But France should be applauded for trying to find the best possible way to inform consumers about what they eat. Just as U.S. states test policy changes -- on issues ranging from education standards to carbon emissions to marijuana legalization -- France will become an EU lab for innovation on nutrition, at least for a couple of months.
By Tobin Harshaw and Mary Duenwald, Bloomberg.
News by Bloomberg, edited by ESM. To subscribe to ESM: The European Supermarket Magazine, click here.