Premium Pets – ESM Meets Partner In Pet Food's Attila Balogh
Published on May 30 2019 3:30 PM in A-Brands tagged: pet food / Partner In Pet Food / PPF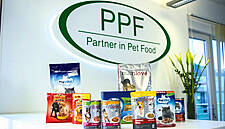 ESM spoke to Attila Balogh, chairman and CEO of Partner in Pet Food (PPF), a leading supplier of pet food and pet nutrition products. This article originally appeared in ESM Issue 3 2019.
Partner in Pet Food (PPF) is one of Europe's largest producers of private-label pet food and pet nutrition products, distributing to more than 470 customers, including supermarkets, specialist pet shops, and veterinarians across 38 countries.
Headquartered in Hungary and with operations in the Netherlands, Hungary, the Czech Republic, Slovakia and Poland, the company is dedicated to keeping one step ahead of the latest trends.
With this in mind, PPF believes that private label offers untold opportunities for retailers to create a point of difference in the Pet category, which itself is undergoing increased sophistication.
ESM caught up with Attila Balogh, the company's chairman and CEO.
ESM: The pet food category has seen growing premiumisation in recent years, with pet owners eager to purchase high-quality food for their pets. What have been the driving forces behind this shift?
Attila Balogh: Central to the answer is the more sophisticated, more informed, and more demanding consumer that we are faced with today, when compared with even ten years ago. Today's consumers are looking for brands they can identify with and which share their values.
More than this, consumers choose brands that say something about the person choosing them, the kind of person they are, or aspire to be.
What consumers demand for themselves, they also demand for their pets. In a world in which pets are increasingly seen as family members, pet owners are willing to spend more to provide their pets with high-quality nutrition.
Those with pets are more likely to see themselves as 'pet parents' than pet owners, and this shift in attitude explains why they choose a diet for their pets that more closely resembles their own diets.
There's an increased level of personalisation within the pet food category – ranges are available for breed types, age groups, etc. What opportunities does this present for pet food manufacturers?
Certainly, this is a trend we have both witnessed and benefitted from at Partner in Pet Food. Again, a part of the answer comes down to the more sophisticated consumer. Being able to find detailed, organised information on products and on brands at the tap of a smartphone screen gives the power to consumers, who are making choices based on preferences, not availability.
Greater understanding of pets' needs is another contributing factor. There's such a wide variety of type and breed of pet, and owners understand that the needs of each are different. On top of this, access to better health-care services and safer environments means that pets are living longer, and it's increasingly well understood that pets have different nutritional needs, depending on their stage of life.
To give you an example, ageing dogs are the target market for Partner in Pet Food's lighter, lower-energy dog foods, as these foods are adapted to the lower energy requirements of these animals. With this in mind, manufacturers with the product development capabilities and flexibility to meet a full range of needs have a lot to offer retailers that cater to this growing demand for personalisation.
Functional ingredients are a growing trend in pet food. Do you see this trend growing?
Consumers' interest in functional ingredients for their pets is certain to keep growing. This is particularly, but not exclusively, the case in specialist retailers, where pet food focusing on nutritional content is in demand.
Functional foods for pets are part of the repertoire of the 'total care' approach of today's pet owners, which also includes ensuring pets have access to high-quality veterinary services.
What pet food packaging formats are resonating strongest with shoppers at present, and what are the reasons for this?
Convenience is a priority for today's pet owners, and this is why pouch packaging, where each serving is contained in its own package, is particularly popular. This is more convenient and appealing to pet owners, as the food can be served directly to the pets. It's the solution for pet owners who place emphasis on – along with quality and nutritional value – comfort and convenience. It also explains the popularity of multipacks, and, of course, Partner in Pet Food can offer such.
Another notable trend is the tendency for packaging designed to appeal to the pet parent's values by focusing on the nutritional value and natural ingredients the product contains.
The wider private-label sector has seen a migration to the premium and budget tiers, with the mid-range tier seeing limited growth. Is a similar trend being seen in pet food?
Just as with other categories of consumer goods, it is certainly the case that the pet food category has seen a marked move towards premiumisation. Consumers are seeking brands which they believe represent their own preferences and values, just as much in the ones they choose for their pets as those they do for themselves.
There is nothing surprising in this. Consumer choices on pet food are heavily influenced by the emotional bond between pet owners and their pets, and the evidence tells us that this is only increasing.
I believe that retailers are only too happy to see this trend continue – so long as their own brands are a winning part of the mix – because it allows them to have a clearer point of differentiation. A retailer having its own brands means it can differentiate on quality or provenance, rather than price.
When retailers get their own brands right, all of a sudden, they are the ones with the advantage, because consumers trust traditional retailers.
This, of course, is where manufacturers like Partner in Pet Food come in. With our product development capabilities, marketing insights and manufacturing flexibility, we have helped numerous retailers grow their own categories faster than the market.
What emerging trend in pet food do you think is going to gain the most traction in the coming years?
Pet food trends will generally follow human food trends, with a slight time lag.
Today's more sophisticated consumer will favour brands that focus on 'natural' credentials. Consumers equate natural with quality, with provenance, and with health benefits.
Sustainability is another credential we can expect to inform consumer choices. This means sustainability in the supply chain, in terms of community impact, and in terms of the product and its packaging. It's a must for the modern consumer.
Visit www.ppfeurope.com for more information.
© 2019 European Supermarket Magazine – your source for the latest retail news. Sponsored content. Click subscribe to sign up to ESM: European Supermarket Magazine.