Walgreens Boots Alliance Profit Tops Estimates As Prescription Sales Gain
Published on Jul 6 2016 2:13 PM in Retail tagged: Featured Post / Walgreens / Walgreens Boots Alliance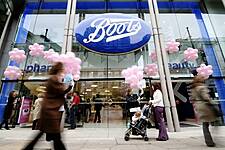 Walgreens Boots Alliance Inc. posted quarterly profit that exceeded analysts' estimates, helped by cost-cutting measures and rising sales from prescription drugs.
The Deerfield, Illinois-based drugstore chain is waiting for antitrust regulators' approval of its $9.4 billion takeover of Rite Aid Corp., a deal that will boost its number of U.S. stores and help it vault past market leader CVS Health Corp. Prescription sales made up for slower retail operations in the U.S., where Walgreens made about 80 percent of its revenue last year.
Earnings, excluding some items, were $1.18 a share in the fiscal third quarter that ended in May, the company said in a statement Wednesday, compared with the $1.14 average of analysts' predictions compiled by Bloomberg.
The company's pharmacies make up the biggest part of its operations. Yet even as the company's revenue from prescription drugs rose, it has struggled to boost sales at the front of the store from products like toothpaste, makeup, soap, food and other convenience and home items.
Drugstore Results
Pharmacy revenue was up 5.8 percent in the third quarter, and drugstores filled 235 million prescriptions and immunizations, up about 3.9 percent. Retail sales rose 0.1 percent compared with a year ago. Walgreens said it's updating its beauty offerings, planning to roll out changes to 1,800 stores by the end of 2016.
The company gave further details of its results:
Revenue rose 2.4 percent to $29.5 billion; analysts anticipated $29.7 billion. Retail pharmacy sales rose 3.7 percent to $21.2 billion; Same-store sales increased 3.9 percent. Low end of 2016 guidance increased to $4.45 to $4.55 a share, compared with past projection in April of $4.35 to $4.55. Net income decreased to $1.1 billion, or $1.01 a share, from $1.3 billion, or $1.18 per share, a year earlier. Cost reductions for last three quarters were $947 million, including $330 million in the fiscal third quarter.
The company did not address its distribution agreement with Valeant Pharmaceuticals International Inc., a deal set up by the troubled specialty drugmaker's former Chief Executive Officer Mike Pearson. Valeant's current CEO Joe Papa has said there had been "speed bumps" as the company adjusted to the arrangement with Walgreens.
In June, Walgreens severed its relationship with blood-testing startup Theranos Inc. and said it would close in-store testing centers. The decision followed revelations that Theranos issued thousands of corrected or voided results to former patients, prompting federal and state investigations.
Walgreens said it's making progress on the Rite-Aid deal, which it expects to close by the end of the year. It has said it would sell some Rite-Aid stores to appease antitrust concerns. The deal is bringing the pharmacy chain's number of U.S. stores to more than 12,000, up from 8,200.
News by Bloomberg, edited by ESM. To subscribe to ESM: The European Supermarket Magazine, click here.