Steinhoff Gets Bank Support As Retailer Strives For Recovery
Published on Jan 19 2018 8:35 AM in Retail tagged: Poundland / South Africa / Steinhoff / Banks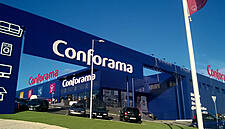 Steinhoff International Holdings NV will meet immediate interest payments and said it has won the support of South African lenders as the global retailer makes early progress in its battle to survive an accounting scandal.
The owner of Mattress Firm in the U.S. and Conforama in France is seeking about 200 million euros ($245 million) to help maintain liquidity at its European businesses, Steinhoff said in a statement on Thursday.
A first installment of 60 million euros will be delivered by the end of the week. A planned refinancing of all South African debt will allow Steinhoff to free up funds for the rest of the company, the retailer said.
"This is a relatively small step, but it does imply there is some money to go around -- not a lot, but some," Charles Allen, a London-based analyst at Bloomberg Intelligence, said by phone. "That they are asking for a relatively small amount of money may imply they can keep the company going. What terms lenders want is important."
Going Concern
The financing update underlines the Frankfurt- and Johannesburg-listed company's determination to survive as a going concern even after it reported accounting irregularities that knocked 90 percent off the market value. The stock rose as much as 8.2 percent after the statement, although it then pared gains to trade 5.5 percent higher as of 5:02 p.m. in the German city. Other retail chains owned by Steinhoff include Pep, Africa's largest clothing chain, and Poundland in the U.K.
The scandal led to the resignations of Chief Executive Officer Markus Jooste and Chairman Christo Wiese, who is also the biggest shareholder. Both have since made steps to shore up their personal finances, with Jooste selling a champion race horse and putting a 15-million-rand ($1.2 million) luxury property on the market. Steinhoff is being probed by South African regulators and has been called to a hearing with lawmakers to discuss its near collapse at the end of the month.
Cautious Move
"While a step in the right direction, we remain cautious," Jeffrey Cope, an analyst at Stifel Nicolaus in London, wrote in a note to clients. "An additional 60 million euros in funding will not solve Steinhoff's problems. We also still have no insight into the magnitude of the accounting issues or when audited results will be released."
Steinhoff said it would give a trading update for the three months through December in the last week of February, its first report on the performance of the business since it failed to publish audited earnings last month. The company has appointed PwC to investigate the accounting issues and will update on progress "as soon as it is able to do so," Steinhoff said. The auditor's probe has unlimited scope and PwC will have full access to the company.
The retailer's next meeting with European-based creditors is scheduled for Jan. 26 in London. The company is also planning to request waivers on the terms governing some its existing financing.
The Conforama unit is exploring options for its own financing after agreeing to sell a stake in French online retailer Showroomprive for about 79 million euros. Units Mattress Firm and Pepkor Europe, which includes Poundland, already obtained separate new credit lines after the scandal broke early in December.
Steinhoff's 800 million euros of bonds due 2025 gained 6 cents on the euro to 63 cents, the highest level since Dec. 5, according to data compiled by Bloomberg.
"As far as one can tell, all the issues are in the European business and so the meeting on Jan. 26 with European lenders is notable," Allen said. "The trading update will also be important."
News by Bloomberg, edited by ESM. Click subscribe to sign up to ESM: The European Supermarket Magazine.