Tuttofood 2015 Breaks Visitor Records
Published on May 12 2015 3:38 PM in Retail tagged: Tuttofood / Milan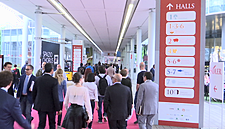 This year's Tuttofood, which closed late last week in Milan, has broken every attendance record, with over 78,000 industry visitors attending the event across its four days.
That figure represents a 40.8-per-cent jump from the 2013 edition of Tuttofood, while there was also a sharp increase in foreign visitors, up 78.7 per cent on 2013, and coming from 119 countries this time around.
Italian visitors also increased in number by 25.3 per cent.
Business-matching registered a veritable boom, with around 2,100 select international buyers meeting 2,838 exhibitors (433 from outside Italy), representing 7,000 brands at 11,790 meetings scheduled in advance through the online Expo Matching Program calendar.
"The figures from this edition, especially the number of targeted business appointments, paint a clear picture: Tuttofood is the tool par excellence for the next stage of Italian agri-food internationalisation," said Corrado Peraboni, CEO of Fiera Milano, post-event.
"It is thanks to Tuttofood that a large number of high-quality SMEs have obtained access to markets where it would otherwise be exceedingly difficult for them to earn recognition in any other way. The target of €50 billion in exports is increasingly within reach for Italy's food system, and we are doing our bit."
Meanwhile, a survey of top international buyers during the event revealed that Italian products are sought around the world not just for the appeal of the country's food and drink, but because they have a reputation as natural, safe, high-quality products.
Among emerging markets, India and China are the most attentive to the added value of all-Italian ingredients, while Middle Eastern consumers are most appreciative of its natural qualities. Americans and Northern Europeans are particularly keen on seeking out original, relatively unknown specialities.
© 2015 European Supermarket Magazine – your source for the latest retail news.