UK Tells EU To Block Three-O2 Deal Ahead Of Brexit Vote
Published on Apr 11 2016 4:49 PM in Technology tagged: UK / EU / Telecommunications / O2 / Three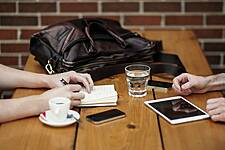 Britain's antitrust watchdog urged the European Union to block CK Hutchison Holdings Ltd.'s plan to create the country's biggest mobile-phone operator, wading into a row two months ahead of a UK vote on its future in Europe.
The UK Competition and Markets Authority, which failed to wrest the deal review from the European Commission, said that what Hutchison has offered so far to allay EU regulators "falls short" of what's needed to avoid long-term damage to mobile-phone markets. The CMA commented in a letter to the EU's antitrust commissioner on its website on Monday.
"No analysis or argument is given to support" the CMA's view that a fourth operator is needed or why Hutchison's remedies are insufficient, Hutchison said in a statement. "The remedies proposed by Hutchison go far beyond remedies accepted in previous mobile merger cases" by the EU, it said.
Hutchison said there was "no taker" for CMA's demand for it to sell mobile network infrastructure and spectrum to create a fourth mobile network operator. CMA head Alex Chisholm said in the letter that blocking the deal was "the only option available" to the EU without such a solution.
Similar Deals
While EU regulators have overruled national authorities on similar deals, UK opposition comes ahead of a 23 June referendum on whether the country should leave the EU. Hutchison's bid to merge its UK Three unit with Telefonica SA's O2 has already attracted the ire of Britain's telecoms regulator, which warned of higher prices and less choice.
"If the commission does go against the CMA on this, it will be taken" by campaigners for UK to quit the EU as another reason "to leave and take back control," said Raoul Ruparel, co-director at the Open Europe think tank. The CMA may be trying to show "that disagreeing with it now is much more costly."
Hutchison said it has commitments with Sky Plc, Virgin Mobile Telecoms Ltd., Tesco Mobile Ltd. and UK Broadband Ltd. to run services off 40 per cent of its combined network capacity. "So many diverse, strong and committed players" will ensure competition that will curb any potential price increases, the company said in an e-mailed statement.
Network Coverage
Hutchison has previously tried to counter opposition from the UK's telecoms regulator, vowing not to raise prices for five years if the deal goes through. It is also pledging to invest £5 billion pounds ($7 billion) to strengthen network coverage, reliability and data speeds.
The concessions currently on the table "fall short of what would be required" to remedy competition problems caused by merging two of the UK's four mobile-phone businesses, Chisholm said. They also fail to address UK regulators' concerns that the merged firm will have network sharing arrangements with Vodafone Group Plc and BT Group Plc.
"Hutchison now appears to be running out of time to negotiate a solution and so the commission has little choice but to prohibit it," said Nick Woodrow, Vodafone's head of competition. Hutchison's existing concessions "are likely to lead to protracted litigation which could dog the UK market for years" because they don't resolve network issues.
Vodafone argues that that the deal will reduce the number of mobile network operators from four in a market that it says needs at least three operators. Vodafone currently shares the Beacon network with O2 and competes with the bigger BT network shared with Three.
Weathered Battles
The EU has weathered battles from regulators in Germany, Austria and Ireland over previous telecoms deals when it refused to allow national authorities rule on tie-ups between operators. It's also been criticized for allowing deals that reduce the number of phone firms even with attempts to boost smaller "virtual" operators.
A decision on the deal will be made solely by the EU, which has a 19 May deadline to rule on it. Merger officials are increasingly wary of big deals that reduce the number of mobile-phone network operators. TeliaSonera AB and Telenor ASA's attempt to combine their Danish units collapsed in the face of EU opposition last year.
The commission received the letter and its investigation into the deal is ongoing, said EU spokesman Ricardo Cardoso. He declined to comment on the content of the letter.
Shares of Hutchison fell 0.1 per cent in Hong Kong trading. Telefonica advanced 0.5 per cent at 4:21 pm in Madrid.
Telefonica declined to comment.
News by Bloomberg, edited by ESM. To subscribe to ESM: The European Supermarket Magazine, click here.