Pork Addiction Sends China Searching For Hedge Of Hog Risk
Published on Oct 31 2016 8:00 AM in Supply Chain tagged: Trending Posts / China / Pork / Pigs / Hogs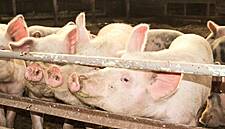 China is looking to hedge the cost of its pork addiction.
In a country that consumes half the world's pork, price swings have become so large that they hurt the ability of domestic producers to keep up with demand, even with a herd of 450 million pigs. Imports are the highest ever and exceed all other buyers.
The Dalian Commodity Exchange, China's largest marketplace for everything from corn and eggs to iron ore, says it may have a way to help minimize that risk: a hog futures contract. Dalian is planning to offer trading in hogs for the first time next year, according to two people who've been briefed about its plans. The contract could help farmers, meat buyers and investors better plan for price moves as well as encourage consolidation in the industry.
Hogs "could become the largest agriculture futures contract" in the country, said Jim Huang, chief executive officer at China-America Commodities Data Analytics Inc. Based on the 2 trillion yuan ($295 billion) of the animals bought and sold annually in China, a popular contract on Dalian could generate trading valued at 10 times that amount, Huang said.
A futures contract is an agreement to buy or sell a commodity at a specific price and date. Speculators use the market to bet on price changes, but the agreements also are used to reduce financial risk by locking in sales for producers and costs for consumers.
While there's no guarantee a new contract will be successful, the Dalian Commodity Exchange has become a benchmark for the expanding raw-material and agricultural markets in China, the world's second-largest economy. Trading on the exchange has ballooned to 1.12 billion contracts last year from 240.7 million in 2006. The biggest markets are soybean meal and iron ore.
For discussion of China food inflation, click here.
Wang Fenghai, the Dalian Commodity Exchange's CEO, told a conference in September that after 15 years of studying the market, the bourse would start trading in hog futures in the near future. He declined to provide details. A spokesman at the Dalian exchange declined to comment on its plans.
The Chicago Mercantile Exchange, owned by CME Group Inc., has the world's most-used hog futures, trading a record 37,000 contracts a day in the first quarter. Each contract is for 40,000 pounds (18 tons) of hog carcasses. Futures for December delivery traded at 44.2 cents a pound on Thursday, valuing one contract at about $17,540. However, the CME serves as more of a U.S. benchmark with little influence on supplies in China, the world's most-populous nation at more than 1.37 billion people.
The lack of a domestic futures contract has hurt the Chinese pork industry as well as consumers, Fang Xinghai, vice chairman of the China Securities Regulatory Commission, said at a conference in Zhengzhou, Henan province, in September.
More Meat
Pork accounts for 60 percent of the meat consumed in China, and domestic producers can't keep up. The country probably will import a record 2.4 million metric tons this year, triple the 761,000 tons of 2014, according to the U.S. Department of Agriculture. Foreign supplies will account for 4.4 percent of what the country consumes in 2016, up from 1.3 percent in 2014, the data show.
Hog futures in China still face hurdles. The exchange hasn't disclosed any details about what the contract will entail, including what kind of hogs will be acceptable for delivery. Providing reliable quality standards will also be necessary, said Feng Yonghui, Beijing-based chief analyst with industry consulting firm Soozhu.com.
The meat industry has faced a series of food-safety violations including rat, fox and mink meat sold as mutton and a meat supplier selling expired chicken and beef. Thousands of pig carcasses were found in the Huangpu River, a major source of drinking water for Shanghai.
Pork Index
With China's per-capita pork consumption twice the global average, the meat has an out-sized impact on inflation. Swings in the cost of domestic supply got so wide over the past decade that some economists joked the country's consumer price index should be renamed the China pork index. Record prices for the meat in 2008 and 2011 sent the overall inflation rate surging, government data show. Wholesale pork touched an all-time high in June.
"Pork's consumption is the biggest among meats in the country, but we still don't have pork futures," Fang, the CSRC official, said in September. "The absence of hogs contracts gave rise to hog cycles and brought huge risks to the country's pork producers."
Providing a viable hedging tool will help, according to Huang of China-America Commodities Data Analytics. After the CME began its contract in 1966, the U.S. industry eventually saw consolidation that left a few big companies controlling supply, he said. In China, the market is dominated by smaller enterprises, with big producers, including Guangdong Wens Foodstuffs Group Co., accounting for about 5 percent, he said.
"Standardized production by big enterprises can mean more control over the price," said Hou Wuqun, vice president at pork producer Chuying Agro-Pastoral Group Co. "That would help decrease the swings."