Walmart Canada Pledges Zero Food Waste By 2025
Published on Apr 23 2018 1:40 PM in Retail tagged: Sustainability / food waste / Walmart Canada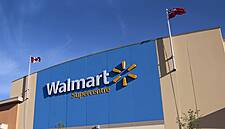 Walmart has announced its plans to achieve zero food waste by 2025 in its Canadian operations.
Walmart will implement its strategy in accordance with the Zero Waste International Alliance guidelines, which stipulate that 90% or more of discarded resources be diverted from landfills, incinerators and the environment.
In addition, the Walmart Foundation will donate $15 million USD (~$19 million CAD) in funding to support a number Canadian initiatives and research to reduce food waste along the food chain, from farm to fork, according to the retailer.
The retailer's plans are based on a three-part strategy which will see it improve operational efficiencies and enhance value to the customer, increase food donations and provide philanthropic support.
Streamlined Operations
Walmart will offer discounted, repackaged, bruised or peak-freshness produce through its '$1/$2 Bag Program' and reduce prices with its 'Value Program' to allow for the quick sale of fresh meat, bakery, dairy and produce items approaching their best-before dates.
It will also improve its bakery production operations to reduce over-production and create a more consistent quality.
The retailer plans to implement organic recycling programmes in 338 stores and distribution centre locations across Canada, which will allow facilities to recycle unsaleable and unsold food into animal feed, compost and energy instead of sending it to landfill.
Surplus Food Donations
In order to increase surplus food donations, all Walmart Canada stores will be paired with local food banks, with some 85% of stores regularly donating their surplus food products.
In the US, Walmart has previously provided millions of pounds of fresh food into the charitable meal system through a similar programme.
The retailer's Canadian operations have also committed $1 million CAD to Food Banks Canada for the 2018 'Fight Hunger, Spark Change' campaign in support of food banks across the country.
"We are stepping up in the fight against food waste and hunger," said Lee Tappenden, president and CEO, Walmart Canada. "I'm very proud of our comprehensive, 360-degree approach to tackle these issues.
"In addition to the Walmart Foundation's significant funding, Walmart Canada's operational initiatives, food donations and philanthropy will help to further reduce food waste and food insecurity in Canada."
Food Bank Donations
In addition to the retailer's efforts, the Walmart Foundation will also invest $15 million USD in over half a dozen Canadian food banks, recycling programmes and academic research from Ontario to Vancouver.
"The Walmart Foundation is committed to being part of the solution on the important issue of food waste in Canada," said Kathleen McLaughlin, president of the Walmart Foundation and chief sustainability officer for Walmart. "We are excited to support these outstanding organisations pursuing innovative and effective initiatives all along the food chain."
"As a business, Walmart believes the value-maximising strategy is the one that creates shared value – value for customers, business and society – by strengthening systems we all rely on," McLaughlin continued. "We hope today's announcements will help accelerate momentum and inspire even more collective action to reduce food waste and alleviate hunger in Canada."
© 2018 European Supermarket Magazine – your source for the latest retail news. Article by Kevin Duggan. Click subscribe to sign up to ESM: European Supermarket Magazine.