Strike Revives Automation Call In World's Top Tea Exporter
Published on Nov 10 2017 9:00 AM in Supply Chain tagged: Agriculture / Kenya / tea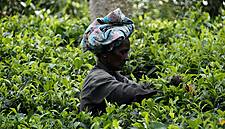 A strike by Kenyan tea pickers has rekindled large-scale tea growers' plans to replace humans with plucking machines, threatening jobs in an economy that's struggling to create employment, according to the main producers association.
Companies including Unilever Tea Kenya - which produces the Lipton brand - Williamson Tea Kenya and James Finlay Kenya lost more than 400 million shillings ($3.9 million) of output in a three-week strike that ended Tuesday, Kenya Tea Growers Association Chief Executive Officer Apollo Kiarie said.
About 16,000 tea pickers and other workers at estates that produce 40% of the nation's output demanded a cumulative 75% wage increase.
"Those employers who have not installed even a single plucking machine will be compelled to start thinking about it," Kiarie said by phone Tuesday from Kenya's capital, Nairobi.
"This strike is the nail in the coffin. Automation has to be done, but gradually. You wait for natural attrition to take place, and then you don't replace."
While Kenya is the world's third-biggest producer of black tea after China and Sri Lanka, it exports more leaves than any other grower.
Farmers harvested 473,000 metric tonnes last year and output could drop to 416,000 tonnes in 2017 because of a drought, according to the Agriculture Ministry. The crop generated $1.16 billion of foreign-exchange earnings for the country last year.
Pakistan and Egypt accounted for about half of the nation's tea exports in the first nine months of this year, according to Kenya's Tea Directorate.
Automated Factories
The fact that the companies lost 400 million shillings in a few weeks shows they are making enough to meet pay demands, according to Henry Omasire, the Kenya Plantation and Agricultural Workers Union's national organizing secretary.
"We are in court and talking to county governments to come up with bylaws to regulate this mechanization issue, because if we don't do that, there will be a lot of insecurity in those areas in future, because the boys will be unemployed," he said by phone.
About 40% of the biggest tea producers have plucking machines, according to the KTGA. Most have automated factory processing and invested in high-yielding varieties.
There has been resistance toward replacing humans with machines in a country where four in 10 people are unemployed. The government's ambition is to create 1 million jobs a year.
"If we agree to stagnate and freeze wage growth, then we can continue for the next 10 to 15 years, but if the demand for increments continues, then it will be a shorter period," Kiarie said. After a 15 percent pay increase last year, workers now earn an average daily rate of 513 shillings, or just under $5.
The break-even price per kilogram of tea is $1.80, according to the East African Tea Trade Association, which conducts the world's biggest black-tea auction at the port city of Mombasa. The average sale price was $2.86 this week.
"We are looking at the bigger picture, if the pressure continues, then in 15 years you will not find a tea operator in Kenya," Kiarie said.
News by Bloomberg, edited by ESM. Click subscribe to sign up to ESM: The European Supermarket Magazine.