Embrace Sustainability At The Consumer Goods Forum Sustainable Retail Summit
Published on Oct 13 2016 9:30 AM in Retail tagged: Featured Post / Retail / FMCG / Consumer Goods Forum / Consumer Goods Forum Sustainable Retail Summit / TCGFSRS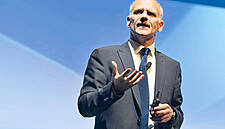 Following the positive approach to sustainability highlighted at the recent Global Summit in Cape Town, this 27 and 28 October sees the hosting of the Consumer Goods Forum Sustainable Retail Summit in Paris, an event that seeks to highlight the pioneering work undertaken by Forum members to address this important issue.
Speaking at the recent Consumer Goods Forum Global Summit in Cape Town, Tesco chief executive Dave Lewis (pictured) outlined how the retailer has sought to take a proactive step in highlighting the importance of food waste, noting that internal research indicated that its waste level rose by 4% in the year to April.
"What this data shows is that it's clear where we need to focus our efforts," Lewis said, exhorting those present to follow suit.
Within the retail sector, Tesco isn't alone in its efforts, and this 27 and 28 October will see the hosting of the Consumer Goods Forum Sustainable Retail Summit at the Le Pullman Paris Centre-Bercy, Paris, which will act as a forum for debate and discussion about the sustainability and ethical issues affecting the industry.
Strong Platform
The Consumer Goods Forum is "already well known for our pioneering work on sustainability," says Peter Freedman, managing director, the Consumer Goods Forum.
"Our members have helped to lead the world, as well as the industry, with commitments to action on topics like deforestation, refrigerant gases, food waste, forced labour and employee health and wellness, but our focus is on implementation, and that is what the Sustainable Retail Summit is all about."
Some of the big retail names addressing the summit include Thierry Cotillard, chief executive of Intermarché, Maria Smith, Head of Environment at Swedish retailer ICA, Mike Couple, chief executive of Sainsbury's, Richard Ellis, head of corporate social responsibility at Walgreens Boots Alliance, Demir Aytaç, chief human-resource officer at Migros, and Tesco's chief executive, Dave Lewis. On the supplier side, big names will include Emmanuel Faber, chief executive of Danone, Hubert Weber, EVP and president, Mondeléz Europe, and Guido Barilla, chairman at Italian pasta giant Barilla.
Focus Areas
As examined by Dave Lewis in Cape Town, food waste is among the core topics for discussion at the summit. According to the Forum, some 1.3 billion tonnes of food waste is produced each year, around 30% of the total food sold – a total of $750 billion (€670 billion) worth. Food waste is also responsible for adding 3.3 billion tonnes of greenhouse gases to the atmosphere every year.
The Forum has outlined a detailed resolution on the issue of food waste, seeking to halve it within its members' own retail and manufacturing operations by 2025, versus a 2016 baseline. In addition, its members will contribute to UN goals that seek to: halve per-capita global food waste at the consumer level and reduce food losses along production and supply chains. At the summit this October, retailers and suppliers alike will outline how they will seek to achieve this.
Addressing the issue of healthier living, the Consumer Goods Forum has developed a five-step framework for action to encourage and embolden its members to adopt measures that lead to healthier product formulation.
In addressing this issue, according to the Forum, 'there is no limit to companies who can join the cause. A commitment to helping people throughout their lives to be healthier will be the common goal for all such initiatives. The collective approach will actively promote and encourage better lifestyles. It will enable us to learn from best practices on public-health issues that are consistently seen around the world.' This will also be examined in detail at the summit.
A third, very important area of focus will be that of addressing forced labour, particularly in developing nations, or those with limited regulation for workers' rights, with the Forum's Resolution on Forced Labour drawing on the UN Guiding Principles on Business and Human Rights (UNGPs), and other international frameworks, including the ILO Declaration on Fundamental Principles and Rights at Work, OECD Guidelines for Multinational Enterprises, and the recently launched United Nations Sustainable Development Goals.
According to the Consumer Goods Forum's Peter Freedman, the Sustainable Retail Summit "will focus on the CEO agenda [several of whom will share their perspectives] and on how collaboration across retailers, manufacturers and service providers can magnify the efforts of individual companies. No company is too big or too small to benefit from the CGF's pioneering, collaborative and action-oriented work."
For further information on the Sustainable Retail Summit, visit www.tcgfsrs.com.
© 2016 European Supermarket Magazine – your source for the latest retail news. To subscribe to ESM: The European Supermarket Magazine, click here.