Free From Functional & Health Ingredients 2019 Reveals List Of Participants
Published on May 23 2019 3:40 PM in Retail tagged: Barcelona / Veganism / Organic Foods / Free From Functional & Health Ingredients / Functional Foods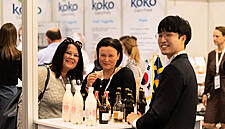 Free From Functional & Health Ingredients 2019, Europe's leading platform for the free-from industry, will showcase the latest product developments when it reveals the shortlisted nominees for the Product of the Year Award 2019.
Visitors to this year's exhibition, at Gran Via Fira de Barcelona on 28 and 29 May, will see the world's pioneering brands, shaping the market for organic, vegan, and functional foods and ingredients.
Ulrick & Short (Stand C30)
Returning exhibitors Ulrick & Short will highlight the growing popularity of gluten-free foods.
A leading creator and supplier of clean-label starches, flours, fibres and proteins, the company has introduced a range of products that satisfy key demands, such as tackling sugar reduction targets and delivering high-quality alternative ingredients to the bakery sector.
These include:
ovaproxTM V – A clean-label total egg replacement solution for cakes, muffins, and baked goods. It mimics the functionality of eggs in terms of volume, crumb structure, texture, and bite.
synergieTM Orion – A versatile ingredient appropriate for gluten-free sponges, cakes and biscuits, enhancing moisture retention, volume, texture, and softness.
complexTM 20 – A gluten-free and de-flavoured functional protein suitable for protein fortification.
avantéTM 9 – A gluten- and allergen-free sugar substitute. It replaces the functional properties of sugar by up to 30% in a range of bakery goods.
The new ingredients are designed to enhance the quality of gluten-free baked goods.
Emma Walker, R&D technologist, commented, "Allergen claims are here to stay, as the trend has grown and the number of people following a free-from lifestyle has increased."
Plamil (Stand A31)
The veteran free-from brand aims to deliver compromise-free indulgence.
It will be introducing an exciting new organic, lactose-free Fairtrade chocolate bar.
So Free Smooth tastes like milk chocolate but is made with cocoa and coconut. It has less than 4% sugar, which is all natural.
Bandama (Stand A53)
FFF&HI will see the launch of Bandama's new line of ecological cookies – Oats and Coconut, Linen and Cinnamon, and Coco with Dark Chocolate Chips.
This is in addition to the new Mini Cleo line, made with high-oleic sunflower oil, chia seeds, quinoa, oat fibre, and natural fruit.
The products have eliminated the use of milk and its derivatives, eggs, and nuts, to offer high-quality alternatives sensitive to the needs of the free-from market.
Bandama will also officially announce the securing of the V-Label certificate across most of its extensive product range.
De Smaakspecialist (Stand A49)
A market leader in organic food from the Netherlands, the brand will showcase BioToday No-bee Honey, a vegan alternative with the same taste, structure, and smell as 'real' honey.
Made with apple juice concentrate, tapioca syrup and lemon juice, the product is free from refined sugars and artificial additives.
The second innovation is the No-Cheese Fondue, which is made from vegan cheese, coarse mustard, and splash of white wine.
It delivers a protein-rich, organic, ready-to-use fondue that can be prepared in minutes.
Ctic Cita (Stand G01)
Created 18 years ago in response to demands from the agri-food industry, this technological centre for packaging, ingredients, processes and food security will launch Veggian®.
This is a 100% vegetable, soya-free, gluten-free, lactose-free, GMO-free, cholesterol-free, and allergen-free meat analogue.
It's a texturised vegetable product consisting of particles of variable size (0.4-0.8 mm), to be used as a meat analogue.
With high fibre content and highly digestible protein, it's the perfect alternative to animal protein, without losing texture.
Macarena Baylos, R&D project manager at Ctic Cita, explained, "From an industrial point of view, the main advantage of this product is that its production process is easily upscaled.
"Veggian® is produced with conventional equipment, which is very important in regard to return on investment and the shelf price. It's very versatile, enabling companies to play with the format and sizes of the product, and create a variety of innovative recipes to surprise consumers," Baylos added.
Dietary Food Solutions (Stand C17)
With over 25 years of experience, expertise, and innovation, Dietary Food Solutions offers gluten-free, raw ingredients and baking mixes.
They are specialists in gluten-free ready-mixes for bread and bakery products, including dark, white and multigrain bread mixes, pizza, focaccia, hamburger buns, wraps, muffins, sweet-yeast dough, and cookies.
Frusano (Stand D11)
Developed to cater to people suffering from hereditary fructose intolerance or fructose malabsorption, Frusano is launching five new products.
These include a satisfyingly indulgent Organic Crunchy Cream with Cocoa Slivers, Organic Protein Bar Chai-Latte, Organic Protein Snack with Curry Spice, Organic Janosch Milk Nut Bar, and Organic Janosch Chocolate Minis with Nuts.
All the products are free from refined sugar, artificial sweeteners, alditols, high-fructose corn syrups, and palm oil.
MartinoRossi SpA (Stand C53)
A leading Italian company specialising in the production of gluten-free, allergen-free and GMO-free ingredients from cereals, pulses, and superfoods.
These are transformed into high-quality clean-label flours.
The pulse flour range includes red and yellow lentils, green and yellow peas, chickpeas and different kinds of beans, such as white, black, borlotto and green mung.
International Taste Solutions (ITS) (Stand C20)
Supporting customers in meeting the challenges of producing healthier reduced-sugar products, ITS offers sugar reduction solutions for a wide range of products, from dairy to drinks, snacks, or baked goods, like cakes, flapjacks or biscuits.
The company's extensive R&D has led to a breakthrough, with two new solutions.
The first is SweetLITE™ Super, which boosts sweetness when reducing sugar content as a natural flavouring in product formulations.
The second is SweetLITE™ Fuse, which can replace sugar syrup in a wide range of food products.
It is a clean-label solution declared as vegetable fibre and water in product formulations.
SweetLITE™ Fuse replaces the bulk and functional properties of sugar while drastically reducing the calorie content.
Max Sport (Stand C06)
To tackle the global food crisis, Max Sport is introducing a range of three Raw Insect Bars: Curcuma & Cinnamon, Ecuador Cocoa, and Lapacho & Cranberry.
Made with mealworms and dates, they deliver a high-protein, sustainable snack.
These sit alongside the newly launched VIBE Protein Bars, available in Choco Caramel, Coconut Choco, and Caramel Peanut.
The fibre-fortified bars have a low sugar content and contain 36% protein.
Nordic Seaweed (Stand C51)
This Scandinavian company produces ingredients based on sustainable seaweed harvests from the Nordic Seas.
Their high-quality products are handmade, free from additives and preservatives, and focus on health properties, taste, and sustainability.
Their seaweed powder has been developed as a multipurpose ingredient for the food industry that offers salt reduction, boosts vitamins and antioxidants, and enhances flavours.
It also acts as a natural binder and contains a range of essential vitamins and amino acids.
Foods for Tomorrow (Stand G30)
Heura® is a new generation of plant-based proteins, delivering textures and composition never before seen in the plant-based product category.
The range is not about substitutes, but successors, to meat. Ready in just five minutes, it is nutritionally complete – containing twice the protein of an egg, four times more iron than one plate of spinach, and six times more fibre than tofu.
Heura® is made from soy, a legume high in fibre, isoflavones, protein, and lysine.
It doesn't contain gluten or added sugars, is low in saturated fats, and has no cholesterol.
Botanic & Fruits (Stand D66)
Specialising in dehydrated fruits, the brand has launched a new range of dehydrated snacks under the Veggy's label.
Available in three varieties – artichokes, mushrooms, and asparagus – the range fulfils the healthy-snacking trend.
Very low in calories, with no added sugars or additives, the product is an all-natural purifier packed with natural minerals, amino acids and vitamins.
FFF&HI exhibition director Ronald Holman explained, "As free-from has grown, it has become an increasingly competitive space. Consequently, we've seen significant progress in product and brand development – this will be reflected in this year's exhibition floor.
"The whole industry is demanding better-quality products and ingredients. FFF&HI continues to offer exhibitors and visitors the best forum to encounter all these new developments and hear about the trends that are driving them," Holman added.
Much More Besides – Four Conferences in One
In addition to the latest product launches being shown by 350 exhibitors, visitors can plan their trip around a packed conference programme hosted by the world's most eminent food and drink professionals.
Four separate conference stages will cover topics including free-from, vegan, health ingredients, and lactose- and dairy-free.
It will be supported by extensive networking opportunities through face-to-face matchmaking and roundtable events.
Pre-registration is now open including a social network function that encourages visitors to connect with their peers through Twitter, LinkedIn or Facebook ahead of the show.
For more information and to receive the latest updates, please visit www.freefromfoodexpo.com.
© 2019 European Supermarket Magazine – your source for the latest retail news. Sponsored content. Click subscribe to sign up to ESM: European Supermarket Magazine.