Vanilla Crop Damaged After Storm In Main Grower Madagascar
Published on Mar 16 2017 11:12 AM in Supply Chain tagged: Trending Posts / Vanilla / Madagascar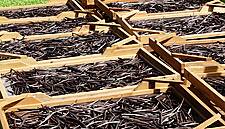 The worst tropical cyclone in 13 years to strike Madagascar may push up already record prices for vanilla beans that are used to flavor everything from cafe lattes to ice cream.
The storm that killed at least 78 people in the Indian Ocean island nation last week may have damaged as much as 30% of the crop, according to David van der Walde, director at Aust & Hachmann Canada Ltd., the world's oldest vanilla company.
The vanilla market, worth about $1.3 billion a year at current prices, was already tight after output slipped and quality suffered over the past two years in Madagascar, which accounts for more than three quarters of global supply. Prices have doubled in a little over a year to more than $500 a kilogram.
"It's most likely going to increase prices," said Craig Nielsen, chief executive officer at Waukegan, Illinois-based Nielsen-Massey Vanillas Inc., a top-five US supplier. "How much they increase and for how long is still yet to be determined."
Demand for pure, natural vanilla has been growing after food manufacturers including Nestlé SA and Hershey Co. shifted from artificial flavoring. Farmers haven't been able to keep up with increasing consumption, as it takes three to four years for plants to start producing vanilla beans, Nielsen said.
Mexican Orchid
Producing the flavor isn't easy. Vanilla comes from a bean pod that grows on a vine-like orchid that's originally from Mexico and was introduced to Madagascar in the 1800s. Because the island doesn't have a certain kind of pollinating bee, this is done by hand. The flowers that produce the pods open for less than a day each year and, if they're not pollinated during that time, that means no vanilla.
"A deadly cyclone hit is a nightmare for the product," said Bevahitsy Mariane, a 45-year-old grower in the country's northeast, where the storm first made landfall with wind speeds of more than 209 kilometers (130 miles) an hour. Her plantation was completely flooded and now she's worried how she'll pay for food and schooling for her five children.
If prices climb further, consumers may switch to natural or artificial substitutes, or blends. That happened when the cost of vanilla reached similar levels 13 years ago, according to Van der Walde.
"In 2003 and 2004 we saw $500 a kilogram, then prices quickly collapsed, demand fell off a cliff," he said. "I don't know where that cliff's edge is today but we are certainly very close."
Demand fell by 40% then, Nielsen said. With current prices, companies may slow or halt their development of existing and new products using pure vanilla until the market stabilizes, he said.
Major User
Nestlé, the world's largest food company and a major user of vanilla, said it considers price increases for its products as a last option when input costs are volatile.
"The prices of our products are not linked to short-term fluctuations in commodity markets," the company said in an emailed response to questions. "Neither do we reformulate our products in response to those fluctuations."
McCormick & Co., a Sparks, Maryland-based supplier of pure vanilla extract, said that while it's confident it'll be able to fulfill existing commitments, it has raised prices because of rising vanilla costs caused by shortages before the storm.
Coupled with increased output from India, Papua New Guinea and Indonesia that will probably cover any losses in Madagascar, a drop in demand would ease any shortage, and prices will drop to about $250 per kilogram, estimates Laurent Bourgois, president at Eurovanille SAS, a France-based supplier.
While it's still too early for an accurate toll of cyclone damage to Madagascar's crop, a 1,000-tonne harvest in 2017 is "certainly possible," according to Van der Walde.
The country probably produced no more than 1,200 tonnes last year, Aust & Hachmann said in February. Madagascar's average harvest is about 1,500 tonnes out of global production of slightly more than 2,000 tonnes, according to Nielsen.
There are fears that shortages may worsen.
"There will simply not be enough vanilla to meet the world demand," said Josephine Lochhead, president at Cook Flavoring Co., a century-old buyer in Paso Robles, California. "Vanilla is literally gold."
News by Bloomberg, edited by ESM. Click subscribe to sign up to ESM: The European Supermarket Magazine.