Need a Brexit Hedge? U.K. Supermarkets Might Just Work: Gadfly
Published on Jun 20 2016 4:20 PM in Features tagged: Featured Post / Retail / UK / Brexit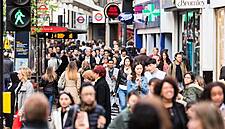 Supermarkets might be winners from Brexit. Might, that is.
The pound may fall on a vote to leave the EU, and that would raise the cost of buying food from suppliers outside of the U.K. As Britain produces just 54 percent what it consumes, it's fair to expect a broad hike in food prices.
While that might seem like bad news for big supermarkets, already grappling with cut-price rivals, inflation can actually be a benefit. In fact, Britain's big supermarkets have blamed falling prices for some of their recent woes.
Investors and analysts tend to look at the value of sales from stores open at least a year, and compare them with the figure in the year earlier period. If food prices are rising, then supermarkets have to sell fewer tins of beans or loaves of bread to reach the same value of sales achieved a year earlier, when prices were lower.
According to analysis by Bernstein, every 10 percent drop in the value of the pound generates 3.3 percent of food price inflation. Goldman Sachs said last week the pound could fall as much as 11 percent on a trade-weighted basis after a Brexit.
So theoretically, that should boost like-for-like sales -- and supermarket valuations. Bernstein has also found that for every 1 percent rise in food price inflation, supermarkets achieved a four to five percent increase in their valuation multiples.
The risk for Britain's big supermarkets is that the benefit of higher food prices is outweighed by a broader consumer slowdown.
Tesco and Asda -- the U.K. arm of Wal-Mart -- also have sizeable U.K. non-food businesses. Here, a weak pound has the opposite effect. It makes buying products such as toys and clothes from suppliers in Asia, who are usually paid in dollars, more expensive.
Rival Sainsbury has just doubled down on non-food, with its 1.4 billion pound ($2 billion) takeover of the Argos catalogue and online store. That has made it Britain's biggest non-food retailer, ahead of Amazon U.K.
The rise of non-food is certainly a reason for caution on the shares. But with food still dominating as their core businesses, the potential for a lift there may be enough to counteract the drag from furniture and drapes.
But perhaps the biggest risk is that higher prices drive consumers into the arms of Aldi and Lidl, the German no-frills supermarkets who have been expanding across the U.K. The British arms of the German groups aren't immune from the impact of weak sterling. They each source about two-thirds of their products from local suppliers, leaving about one-third to be bought from overseas.
The German discounters' limited range of products and lean supply chains, not to mention the buying scales that their big international parents are able to generate, mean they may be able to absorb some of the pain of food price inflation and undercut big supermarket rivals.
Aldi and Lidl are a worrying threat. But their smaller range and number of locations mean they're not anywhere near replacing the big four for Britons' weekly shops.
Shares of Tesco, Sainsbury and Morrison are certainly pricing in the worst-case scenario. But that may be overdone.
As long as consumer spending power doesn't get too badly squeezed -- and that's a significant caveat -- higher prices could be just the ticket for Britain's big supermarkets. And that means they might be a useful hedge against Brexit, not victims of it.
This column does not necessarily reflect the opinion of Bloomberg LP and its owners.
News by Bloomberg, edited by ESM. To subscribe to ESM: The European Supermarket Magazine, click here.