How Does Business Intelligence Help Retail?
Published on Dec 20 2018 4:00 PM in Retail tagged: Trending Posts / HMY Group / Business Intelligence / Data Analysis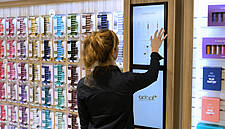 It is said that information is power, and having information about one's business is the first step to sell more, satisfy customers, and improve results.
Perhaps a standalone piece of information does not provide any insights, but the ability to analyse and draw conclusions from it can yield significant results. That is where the role of business intelligence comes to the forefront.
In recent years, data collection has evolved by leaps and bounds. It is now possible to collect data from almost any device, allowing Big Data to take centre stage.
There is a huge amount of data at our disposal that can be processed to gather useful information, highlighting the role of business intelligence.
What Is Business Intelligence?
Business intelligence (BI) is the process of extracting information and knowledge from data through analysis. Its objective is to help in making better decisions in the business environment, improving results and optimising processes.
It allows businesses to analyse the data of the past and present to derive conclusions that contribute to improving services. In addition, business intelligence can also be used to analyse trends and interpret predictive models.
Business Intelligence In Retail
In the retail sector, business intelligence allows organisations to identify points of friction, optimise in-store navigation, test layouts before roll-out, recognise specific areas to ensure that visualisation strategies are effective and well managed, and identify new opportunities in the store by visualising consumer behaviour.
In this sense, HMY helps brands and retailers in understanding the behaviour of their customers, in order to learn, test, and improve performance in their walk-in stores.
Through sensors integrated into stores, HMY captures real-time data, such as traffic, time spent in different areas, or the conversion into sales for certain products after launching digital campaigns.
What Advantages Does BI Offer To The Retail Sector?
Applying business intelligence to HMY's business offers many advantages that will result in generating more benefits and providing better services.
Some of the most outstanding benefits include:
Accurate Data Collection
Accurate, real-time data can be collected and accessed from any place and compared by the hour, day and month, and at a store or a regional level. This will allow understanding various metrics, including traffic and conversion rates.
All that information makes it possible to implement quick in-store measures based on data trends, which include AI-forecasted traffic and the evaluation of performance against historical data, mirror stores, and targets.
Optimising Store Resources
This includes improving engagement with the customer and optimising staff by aligning their work hours with the hours of customers' purchases.
Understand The Demographics Of Clients
Data on audience profiles by age, gender, time of day, day of the week, and store allows retailers to customise promotions in real time and influence merchandising and inventory volume.
Attract Customers To The Store
The data allows retailers to identify potential clients, who pass through the store and come in, in contrast to those who do not. It also helps in analysing how much time consumers spend within a store.
Nowadays, several technological solutions allow customers to identify themselves in store, which enables retailers to offer personalised promotions based on the analysis of their purchasing behaviour, which takes into account factors like frequency of store visits, time spent, areas visited, and products purchased.
Understanding The Shopping Journey
Through direction, retailers can learn where customers walk from the entrance, where they stop, and how long they stay in each area, and all these factors play an important role while making decisions about the design of the store, and in identifying the best promotional spaces.
Business Intelligence Tools For Retail
Business intelligence offers several tools to retailers, but they are largely divided into two main blocks:
a) Customer Interaction Analysis
The integration of technological solutions in the store allows for improving the customer experience through interaction with different solutions, including tutorials, product queries, and questionnaires.
Some examples of indicators that can be measured are:
• Visualisation of products and services of greatest interest
• Petitions of sizes in rupture of stock
• Segmented customer needs based on the type of consumer
• Services and related products
• List of products segmented by type of customer
• ROI of technological solutions before and during roll-out
b) Analysis Of The Client's General Behaviour
It measures the behaviour of the buyer, to optimise the location of the displays, signage, store design and layout, merchandising displays, and the placement of products and accessories.
• Permanence Ratio – measures the percentage of buyers who walk through a specific location, compared to the store's total traffic.
• Interest rate – measures the number of buyers who are located in a specific area for longer than the predetermined and defined period.
• Time of interest – measures the average time that buyers spend in a specific zone.
• Zone Conversion Ratio – measures the percentage of buyers who stop in a specific permanence zone and then make a purchase of the exhibited product within that zone.
• Address maps – measure the direction in which shoppers go after entering the store: left, centre, or right.
• Heat maps – measure areas of high traffic, bottlenecks, and unattended areas by identifying 'hot' and/or 'cold' areas with coloured maps.
Information Is The Key
It must be remembered that these tools only facilitate access and visualisation of information, but decisions must be made by retailers. This is why the choice of correct KPIs is important in understanding a business well.
This knowledge and experience, together with the information provided by these systems, will allow HMY to build a business model that, beyond generating greater benefits, will help in understanding clients and their interests better.
For more information, visit hmy-group.com.
© 2018 European Supermarket Magazine – your source for the latest retail news. Sponsored content. Click subscribe to sign up to ESM: European Supermarket Magazine.