Shrinkage Costs Retailers More Than €49bn Across Europe Annually: Study
Published on Jun 20 2019 3:30 PM in Retail tagged: Trending Posts / Europe / Shrinkage / Checkpoint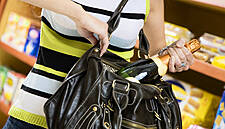 Losses from shrinkage cost retailers more than €49 billion annually, representing 2.05% of the retail sector's annual turnover, a new study released today, 20 June, has revealed.
The loss is calculated as the sum of the shrinkage value (1.44% of turnover) and security expenses (0.61%).
The report, Retail Security in Europe: Going beyond Shrinkage, was conducted by Crime&tech, a spin-off of the Università Cattolica del Sacro Cuore – Transcrime with the support of Checkpoint Systems, the global leader in source-to-shopper solutions.
Top Five Stolen Items
The research revealed that the top five stolen items by value in food retail include alcoholic drinks, cheese, meat, sweets, and canned fish.
In apparel, accessories, knitwear, trousers, and blouses were the most attractive items, while mobile phones and accessories topped the list in electronics, and high-value tools in DIY stores.
Total Losses To Shrinkage
With feedback from retailers in 11 countries, the report concluded that total losses to shrinkage, when compared with total company turnover, would represent the fourth-largest retailer in Europe.
The sectors presenting the highest shrinkage rates include food retail (2.0%) and apparel (1.4%).
Those recording the lowest rates include electronics (0.4%), beauty and cosmetics (0.5%), and sporting goods (0.7%).
The shrinkage value included external and internal theft, and also took into account administrative errors, non-compliant use, waste, expired goods, and damaged cold items.
The main findings from the report revealed:
The overall 2017 shrinkage rate increased by 0.19% when compared with 2016.
The most common criminal causes of shrinkage include shoplifting, employee theft, and fraud. More sophisticated forms of internal fraud were found to be on the rise, like false voids, return fraud and loyalty card fraud.
'Grab and run' continues to be the most frequent modus operandi for shoplifters, while booster bags, which prevent tagged products from being detected by older models of EAS technology, are frequently used.
Stores with current versions of self-checkout technologies also experience higher shrinkage rates.
More than 75% of retailers carry out inventory checks up to twice a year. Some 72% use bar codes, and 7.5% record inventory checks by hand. While there has been an increase in the adoption of RFID technologies, usage is still low, at 5.7%, despite the proven benefits.
The most adopted countermeasures include CCTV (used by 80% of respondents), EAS and third-party alarms (70%), while more than 25% of respondents combine EAS and CCTV for more efficient protection.
'Beyond Shrinkage'
Speaking about the report, Prof. Ernesto Savona, director of Crime&tech, said, "The research reveals that retailers across Europe are using a mixture of techniques to measure shrinkage, which includes a variety of both crime and non-criminal losses. All these different approaches shall be kept in mind when interpreting the results presented.
"For this reason, the study goes beyond shrinkage, and it analyses retailers' inventory policies and technologies, the contextual factors that have an impact on retail losses, the modus operandi of shoplifters, and how countermeasures and security solutions are adopted and combined together," Savona pointed out.
'Insightful Research'
Fran Zanier, European marketing director of Checkpoint Systems, added, "Checkpoint has a long history of providing insightful research into retail loss, having sponsored and published several respected reports over the last 16 years. The new Retail Security in Europe study will help retailers to assess and define their own loss-prevention strategies while reducing theft and improving the customer experience.
"As we mark our 50th anniversary this year, we understand that this is more important than ever. The fact that shrinkage, if converted to turnover, would represent the fourth-largest retailer in Europe should not be taken lightly," Zanier commented.
"It's extremely worrying that the actions of the few can financially impact businesses and employees. In light of today's tough retail climate, it's more important than ever for retailers to take note of the findings and take the necessary actions to reduce their losses," he added.
To download the complete report, visit the websites of Checkpoint and Crime&tech.
© 2019 European Supermarket Magazine – your source for the latest retail news. Sponsored content. Click subscribe to sign up to ESM: European Supermarket Magazine.