European Private Label Awards 2019 – The Judging Process
Published on Nov 29 2018 10:29 AM in Private Label tagged: private label / awards / European Private Label Awards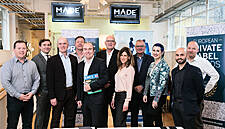 The judging process for the 2019 European Private Label Awards took place in November 2018, in Dublin, Ireland.
As with last year's competition, a judging seminar was convened in the Cooks Academy, Dublin, in November, welcoming experts from across the private label spectrum, as well as a number of chefs and culinary experts, for two full days of product assessment.
The products were judged in terms of three important metrics, Innovation, Presentation and Taste, with the non-food and pet food categories assessed in terms of Innovation and Presentation only.
Following on from this process, four finalists were selected in each of the 12 categories, which ESM: European Supermarket Magazine has now revealed. The winners in each category will be announced in Issue 1 2019 of ESM, which is due to be published in February 2019.
How It Works
Judges were asked to assess each product in terms of three important metrics:
1. Innovation. How well does a product convey innovation and differentiation from other products in the marketplace? How well does it tap into consumer trends and/or create new opportunities within its specific category?
2. Presentation. How well is this product presented? Does the packaging accurately convey the product's composition and qualities, and to what degree does the product stand out on shelf?
3. Taste. How does the product taste? Does it meet, or even exceed, taste expectations for a product in its category?
Meet The Judges
André Michel, IPLC
André Michel is a partner of International Private Label Consult (IPLC), a leading private-label consultancy. He has over 40 years' worth of experience in retail, having commenced his career as commercial director at Konmar, in the Netherlands.
Hermann Sievers, smk-sales.com
Hermann Sievers is an acknowledged private label expert in Germany. He has more than 20 years in marketing and sales positions in retail and FMCG. For more than a decade he was responsible for private label strategy at EDEKA.
Loe Limpens, Yellow Dress Retail
Loe Limpens is the co-founder of private-label design agency Yellow Dress Retail. He has more than 25 years of experience in operational and strategic brand design and its translation within all media, in terms of packaging.
Malachy O'Connor, IPLC
Malachy O'Connor has more than 20 years in the Irish and UK supermarket sectors, working for retailers including Marks & Spencer, Dunnes Stores, Superquinn, Spar, Aldi and Tesco. He joined IPLC as the group's Ireland representative in 2017.
Sebastiaan Schreijen, Rabobank
Sebastiaan Schreijen is an industry analyst in Consumer Foods at RaboResearch Food & Agri (FAR) in the Netherlands, and is considered a leading authority on private label, contract manufacturing, and sourcing strategies.
As well as these private-label experts, the judging team also featured a team of chefs and culinary experts, including Carlo Rubino, Restaurant Patrick Guilbaud (two Michelin stars); Caoimhe Hanafin, The Shelbourne Hotel; Derek Reilly, ARAMARK; Susie Koumarianos, The Burlesque Baker; Emily Hourican, Hospitality Ireland; and Mark Kelly, ESM: European Supermarket Magazine.
© 2018 European Supermarket Magazine – your source for the latest retail news. Article by Stephen Wynne-Jones. Click subscribe to sign up to ESM: The European Supermarket Magazine