Asda, M&S Introduce Measures To Close Gender Pay Gap
Published on Mar 2 2018 9:00 AM in Retail tagged: Trending Posts / UK Retail / Asda / Marks & Spencer / Gender Pay Gap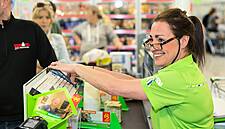 Asda and Marks & Spencer are the latest UK retailers to report on their gender pay gap, ahead of a government deadline in April.
Both retailers have unveiled figures that are better than the national average, but admit that there is still more work to be done, especially with regards to having higher numbers of women in senior leadership positions.
Asda's median pay difference between male and female employees currently stands at 8.9%, while M&S has reported an even lower figure of 3.3%.
The gender pay gap measures the difference between men and women's earnings across a business by expressing women's pay as a percentage of men's pay.
The current UK average is 17.4%, with a median figure of 18.4%, according to the Office of National Statistics.
Female Representation
Supermarket giant Asda has reported a median pay difference of 8.9%, and an average difference of 12.5%, which is better than the national figures.
Asda says that 86% of its colleagues work in store-based hourly-paid roles, which have set base rates of pay, however, the difference arises as only 35% of those occupying senior roles at Asda are women, whereas 70% of those in junior roles are women.
"Rates of pay and access to benefits and opportunities are the same at Asda, regardless of gender," said Hayley Tatum, Asda's senior vice president of people.
"Whilst our gender pay gap is better than the national average we recognise that, like many businesses, we have challenges when it comes to female representation in more senior roles – and that is something we're committed to addressing."
The supermarket says that it has already introduced flexible job design and unconscious bias training to ensure that women are encouraged to progress into more senior roles.
Asda is also part of a global Women in Leadership programme, supported by its parent company Walmart.
Diverse Workforce
Meanwhile, M&S has reported a median pay gap of 3.3%, with an average gap of 12.3%, and, like Asda, the disparity arises from the lack of women in senior positions.
Although 72% of the retailer's workforce are women, only 42.7% of senior managers are female, and 30% of the group's board is female.
Looking ahead, M&S plans to reduce its non-demographic gender pay gap in the UK by at least 10% by 2020, and by 25% by 2025. It also aims to have 50% female representation on its board by 2022.
"Our customers come from a wide range of backgrounds, and in order for us to understand them, our workforce needs to reflect them," said Simmone Haywood, head of talent at M&S.
"Ensuring we are inclusive and having a diverse workforce is vital to our success."
Last week, Tesco and Aldi became the first grocery retailers in the UK to reveal details of their gender pay gap, reporting mean figures of 12% and 11.5%, respectively.
All organisations in the UK with over 250 employees are required to publish data on their gender pay and bonus gaps before April.
© 2018 European Supermarket Magazine – your source for the latest retail news. Article by Sarah Harford. Click subscribe to sign up to ESM: The European Supermarket Magazine.