Transformative Robotics Technology From Brain Corp
Published on May 12 2020 2:36 PM in Technology tagged: Trending Posts / Retail / Robotics / Brain Corp
With retailers seeking to enhance the customer experience, not to mention overcome current COVID-19 challenges, Brain Corp believes that technology offers a way forward. ESM spoke to the company's Europe General Manager, Michel Spruijt.
Styled as the 'Microsoft of robotics', Brain Corp has been at the forefront of developing artificial intelligence and robotics solutions for the business sector since 2009.
Founded by renowned computational neuroscientist, Dr. Eugene Izhikevich, in recent years the company has rolled out its BrainOS technology – a cloud-connected operating system for autonomous mobile robots – with BrainOS now the world's leading technology provider for the autonomous floor care market.
But the possibilities go much further than that. With the COVID-19 outbreak making this a particularly challenging time for retail, businesses need to put their trust in solutions providers that can help them maintain control over their operations, as well as bolster the customer experience both now and in the future. Brain Corp, which opened a new European office in Amsterdam last year, is well positioned to meet that need.
ESM: What would you describe as Brain Corp's unique selling point?
Michel Spruijt: Brain Corp provides original equipment manufacturers with a comprehensive, scalable, and trusted solution for robot production and deployment. BrainOS features everything from advanced autonomy capabilities and machine learning algorithms, to detailed diagnostics and a cutting-edge cloud reporting system. A company that wants to turn one of their machines into a robot can do so successfully with the help of BrainOS.
BrainOS-powered machines are designed with the end-user in mind. Our autonomous cleaning solutions, for example, still require a human in the loop to 'teach' the machine initial routes and help it if it happens to get stuck. The training and set-up process is very easy, with anyone able to set-up and deploy quickly with no additional infrastructure requirements.
What's more, Brain Corp provides tremendous value from the data and learnings generated by our fleet. With thousands of robots in the field, all BrainOS-powered robots are constantly learning from one another and improving. This scale ensures continuous advanced performance, making our solutions the most trusted available.
How has the robotics industry offered assistance during the COVID-19 crisis?
Brain Corp's mission statement is to power autonomous solutions that make the lives of people safer and more productive. During this time of global disruption, we remain committed to this vision and strive to support our partners and their end customers, including the grocers and retailers currently on the front lines, with trusted technology that provides relief.
Autonomous floor care and delivery solutions can supplement overstretched teams during these difficult times and free up employees to focus on higher-value tasks such as restocking shelves or disinfecting surfaces. Already we're seeing our robots providing 250,000 hours of monthly cleaning time, which would have otherwise needed to be performed by an essential worker.
We've also noticed a fleet utilisation spike in retail environments of 13.6% during March 2020 compared to the same month last year – a statistic that speaks to the growing value that automation is providing.
How important is robotics to the retail industry at present, and in what ways is this likely to evolve?
Retailers are beginning to adopt AI and robotics technologies at an increasing rate. Whether it's self-checkout at Amazon or Walmart's recent rollout of thousands of BrainOS-powered cleaning robots, retailers know that remaining competitive means leveraging innovative technologies.
As far as brick and mortar stores are concerned, retailers are constantly striving to improve customer experience. Robotics can support these efforts, particularly when viewed through the lens of the current pandemic crisis. More so now than ever before, store managers need to focus on keeping their locations clean, safe, and well-stocked. By supplementing current teams and providing cleaning validation through reporting, robots effectively provide help where it's needed most.
In the exploding world of e-commerce, robots are already being used to help fill orders and distribute products. For example, Brain Corp recently rolled out a delivery solution in partnership with Unicarriers that is positioned to provide value in these environments.
Brain Corp currently works with cleaning technology providers on smart automation solutions. What other applications do you see for Brain Corp technology?
The commercial floor care industry is just the first vertical where BrainOS can be used. There is no limit of industries or environments where this technology can be deployed. We see opportunities in hospitals, hospitality, construction, security, and many more verticals.
Beyond that, robots are able to collect vast amounts of data and convert that information into actionable insights. The ability to capture this information and serve it up in meaningful ways will also help prove out the enormous value that robots will bring to the environments in which they work.
With any new technological step forward, there is likely to be a degree of resistance. How does Brain Corp address this?
In developing its initial prototypes, Brain Corp spent an incredible amount of time talking to and working with end-users. It's imperative that those physically using these robots are the ones providing feedback and input from the start.
The result is an approach to technology that keeps humans in the loop, strongly considers the needs of the end-user, and ensures that robots act as an effective tool and team supplement.
What's more, Brain Corp works closely with our partners and end-user customers to ensure they understand the entire robot value chain. Yes, robots can save time and help supplement overworked staff. But on top of that, they can also validate your scope of work through reporting, improve cleaning performance and consistency, and add to sustainability efforts through a decrease in water and chemical usage.
It's important that customers see and understand the full picture when considering whether or not to introduce new technology into their business.
What does the coming year have in store for Brain Corp?
Brain Corp opened its European offices in 2019, so we'll be focusing a large portion of our efforts on scaling floor care sales and supporting our manufacturing partners throughout the region.
On top of that, we are poised for strong growth in additional verticals where autonomous mobile robots can add value – primarily delivery and retail shelf scanning.
For more information on how Brain Corp can support your business, visit www.braincorp.com/europe.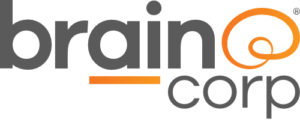 © 2020 European Supermarket Magazine – your source for the latest retail news. Sponsored content. Click subscribe to sign up to ESM: European Supermarket Magazine.