Billionaire French Milk King Shaken By Lactalis Farmer Protests
Published on Oct 4 2016 8:10 AM in Fresh Produce tagged: Trending Posts / Dairy / Milk / Lactalis / Besnier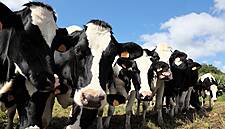 French billionaire Emmanuel Besnier gets milk. Transparency and media exposure not so much.
Lactalis, the secretive milk empire founded by his grandfather, has been caught in a swirl of bad publicity recently, leaving him grappling for a response. The group, whose "President" brie cheese and "Galbani" mozzarella helped turn it into one of the world's largest dairy producers, is accused by farmers of profiting at their expense by paying rock-bottom prices for their milk.
Reeling from a global slump in milk prices, French farmers took to the streets and roped in consumers to support their claims for higher prices. Their success in extracting a price commitment from a reluctant Lactalis in August, following weeks of demonstrations, is inspiring Spanish and Italian suppliers to push for similar deals.
"The call for consumer awareness made the difference," said Philippe Jehan, a farmers' union representative, who keeps 100 dairy cows on his farm in western France. "Besnier was setting the stage for the destabilization of his company and his brands."
The battle put 46-year-old Besnier -- whose net worth of $5.9 billion makes him France's ninth-richest person according to the Bloomberg Billionaires Index -- at the center of a media blitz. Le Monde's profile of him was entitled " An Invisible CEO with Commando Tactics," Les Echos asked "Who is the secret billionaire behind Lactalis?," while France 2 TV showed farmers in supermarket aisles, angry about the group's "phenomenal margins, " pasting cheeses with stickers that read "This dairy product ruins farmers."
'Smear Campaign'
While Besnier, Lactalis's chief executive officer, stayed mum on the media reports, he took the unusual step of writing a letter to farmers on Aug. 31, a copy of which was obtained and published on Sept. 12 by an agriculture weekly called Paysan Breton. Besnier said unions had organized a "smear campaign" against the company and caused it an "unprecedented media crisis" by using the "myth" of "the big against the small."
The war of words between the two sides has had an unexpected consequence: Drawing attention to the tactics of a group that remains a mystery even as its products fill dairy shelves in supermarkets across Europe. With 17 billion euros ($19.1 billion) a year in revenue, the privately held Lactalis is the world's biggest cheese maker and by some measures the second-largest dairy producer behind Switzerland's Nestle SA. The French company doesn't publish its accounts or a complete list of its brands.
Europe is key to Lactalis both as a market, with 58 percent of annual sales, and a place to make cheese, which accounts for more than a third of revenue. More than 40 percent of the milk Lactalis collects in France is turned into export products, spokesman Michel Nalet said by phone. The company often pays French farmers the least, according to a milk price comparison from LTO Nederland.
Farmers' Protest
Hurt by a milk glut, French farmers over the summer turned on Lactalis, one of their biggest buyers. After months of unproductive talks, farmers resorted to blocking Lactalis factories, demonstrations at its headquarters and reaching out to shoppers in supermarkets with a call to boycott its products. Dairy farmers also sold milk directly, in some cases with the help of France's largest retailers, including Carrefour SA.
Lactalis ended the conflict with French farmers on Aug. 30 by consenting to a monthly minimum price of 0.30 euros per liter of milk by December, from less that 0.26 euros previously, which the company says will mean forking out an extra 150 million euros. In his letter, Besnier warned of trouble ahead, pointing out that the price agreed to is at least 0.045 euros higher per liter than that paid to other European farmers.
A day before the deal was struck, Agriculture Minister Stephane Le Foll said on France Info radio that he'd help farmers but didn't have Besnier's contact details to get in touch with him. To some, that was evidence of how the Besnier family had built the group and a fortune in the politically charged agricultural industry -- quietly and without much fanfare.
Small Beginnings
Lactalis had its beginnings in the Laval region, about 250 kilometers (156 miles) southwest of Paris. It was there in 1933 that Besnier's grandfather Andre left his job as a butter churner and produced 17 rounds of Camembert cheese with a few dozen liters of milk collected at nearby farms, according to the company's website. Branded "Le Petit Lavallois" with a medieval castle in a rural landscape as its logo, the cheese became a success. By the year 1948, Lactalis was collecting 10,000 liters of milk a day.
Decades of product diversification and acquisitions later, including the purchase of Italy's Parmalat SpA, Lactalis produces dairy in 43 countries and sells in more than 150. In France alone it collects 5.5 billion liters of milk per year. While the Galbani and President brands each generate more than a billion euros in revenue a year, local brands bring in a few hundred thousand each, Nalet said.
As protests have died down in France, the group may have earned some breathing space. But it faces rumblings in the neighboring countries of Spain and Italy.
Brewing Fights
In Spain, pressure is mounting after local farm union UPA called on the government to seek fair treatment for farmers. Several unions joined a boycott in the northern region of Galicia, with representatives patrolling supermarkets to dissuade shoppers from filling their carts with Lactalis brands including President, Gran Capitan or Galbani.
In Italy, the largest farmers' association Coldiretti demanded French terms to be extended. While spot prices rose to 0.36 euros a liter at the end of August from 0.22 euros in April, Lactalis continued to pays farmers less than 0.30 euros, it said Aug. 31. The price "doesn't even cover animal feeding costs," Ettore Prandini, the body's vice president, said.
"Farmers often fight with Lactalis," said Marion Cassegnou, an analyst at farm-adviser Agritel in Paris.
For Besnier, the new environment may mean an end to a low-profile existence.
News by Bloomberg, edited by ESM. To subscribe to ESM: The European Supermarket Magazine, click here.